In this age of the internet, more and more jobs are becoming remote, offering great flexibility and freedom to those who perform them. Freelance writing jobs are one such option and give you the perfect way of not only learning about new subjects and honing your writing skills, but also earning a wage while doing so.
At Topcontent, we offer a range of writing jobs in a number of different languages, giving you the perfect platform to start writing, and all from the comfort of home. Better yet, you can do this when you feel like working on it.
At Topcontent, we make it very easy for you to join up and become one of our freelance writers. The signup process is simple, and our payments are transparent. For every task you do, you'll be able to see exactly how much it's worth, plus you can choose which tasks to do, giving you complete control over your work. We'll also give you helpful feedback, especially when you start, to help you improve and grow as a writer – potentially adding proofreader to your skills down the line. So, if this interests you, keep reading and see how you can join our team!
How to be a freelance writer at Topcontent
If you think that becoming a freelance writer is the move for you, then why not join us? Here at Topcontent, we make it incredibly easy for you to sign up and get started with some content writing jobs. There's an easy process to follow, and soon you'll be up and running in no time, earning money from home. Keep on reading to find out how!
1
Sign up and validate your account
The first step to becoming a freelance copywriter with us at Topcontent is to create an account. This is a simple process; just hit the sign up button and fill out your profile. The best part is, you don't need any experience or education related to writing, just writing skills and a passion for writing. You don't even need to send us a CV – simply validate your account.

2
Choose your language and complete a screening test
Once the account is validated, select your main language. You can only select one main language, though if you are bilingual, you'll need to get in touch with us. With regards to your language, you'll have to undergo a screening test, which we have in place for some languages like English, Finnish and Swedish. This needs to be completed successfully before you'll be able to access freelance writer jobs. It's timed, so make sure you're available before starting.

3
Fill out your profile and complete an introduction lesson
Once the account is created, you'll need to fill out your entire profile. This includes your full name and the payment method you would like to use, as well as tax information. This is important if you wish to get paid for any content writer jobs that you complete.
At this time we only offer two different payment methods, but if neither is available in your country, please get in touch with us.
After this, you'll need to complete the introductory lesson to understand how it all works, so that you can get started. This is compulsory, but you will be paid for the work in the lesson. It's there to show you how the system operates, so that you get hands-on experience of the processes that are involved.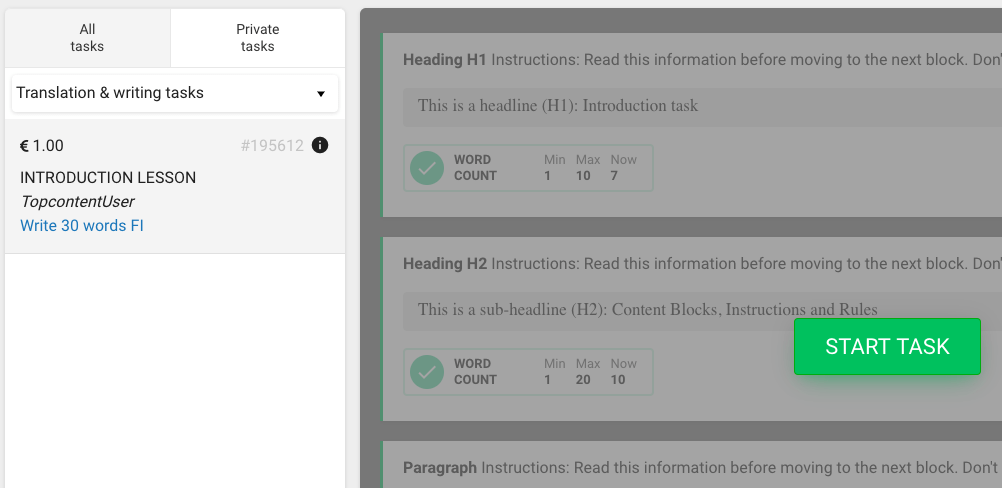 Once you've completed all of the above steps, it's time for you to get yourself some writing jobs. All the available jobs will be shown on the task board. You can take any task you want. Sometimes the board will be empty; this is because the amount of tasks varies depending on the language and even the time of day. Be aware that when you take a task, you have 12 hours to complete it, but if you have not started the task within a two-hour period of accepting it, the task will be dropped from you.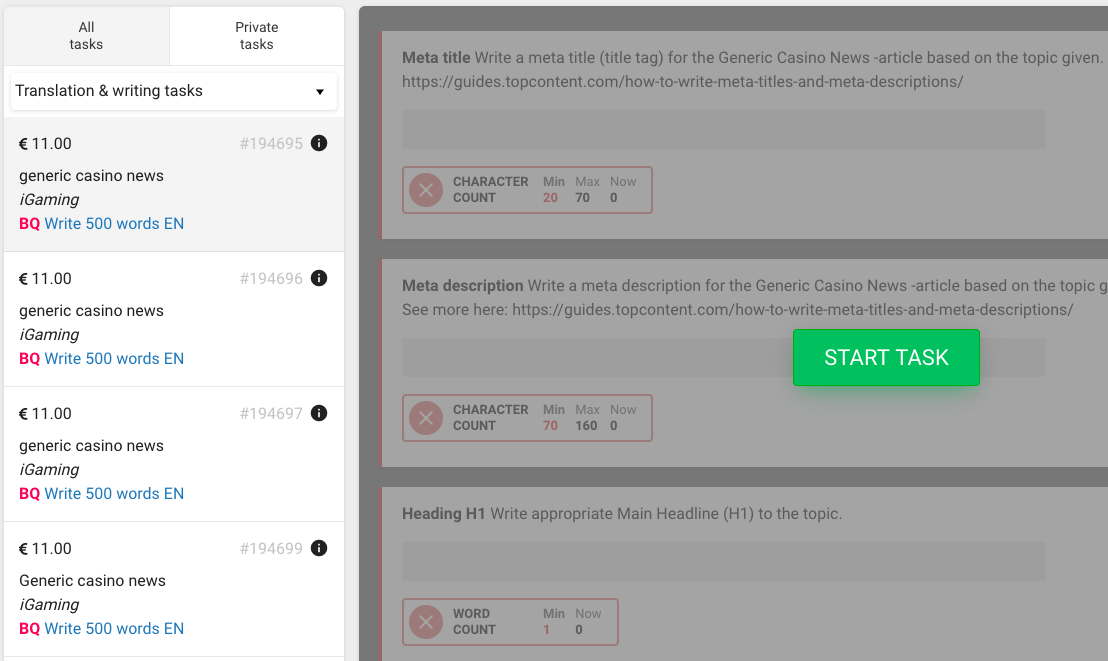 Flexible freelance writing jobs from home
One of the best things about writing for Topcontent is the ability to perform writing jobs from home. Thanks to the internet, it's now easier than ever to acquire remote freelance writing jobs and work outside of an office, in an environment that suits you. By working from home, you are afforded a lot more freedom and flexibility in the way you work. For instance, as a freelance writer, you can choose to write as much (or indeed, as little), as you want for Topcontent. This means that you can control how much you earn per month as well as the hours.
What's even better is the complete flexibility available to you when you write with us. You can work from anywhere in the world, writing at any hour or day of the week that suits you. In this way, these writer jobs can fit in around your daily schedule in a seamless fashion. You also don't have to tell us if you plan on going on holiday, or just need a break, as you're a freelancer with us rather than an out and out paid employee. Once again, this gives you enormous flexibility in what you do.
When you are online writing with us, it's also important to remember that the number of tasks available will fluctuate. This happens because we have a number of writers taking tasks as well. With this in mind, we do have a daily notification that you can turn on so that you are updated as soon as there are tasks available to write. With this, you can head on over to the task board and select the tasks that you'd like to write as soon as they become available. This way, you can keep your work rate flowing.
How the freelance writing process works
Choose a task you want to complete
Read the instructions carefully and make necessary research
Write the task and send it
Task is proofread – if the task does not follow instructions or needs some corrections, it will be sent back to you with feedback
Make the corrections and send the task on
The task then passes the proofreading stage and goes to quality check
Quality check notes any final corrections needed, and when corrections are made, sends the final text to the client
Sign up and become a freelance writer today!
Freelance writing job topics
E-Commerce content writing
At Topcontent we have a range of different topics available to write about, though these change depending on our clients. This mainly involves writing product descriptions and SEO content to encourage visitors to the site. The actual products you will write about can vary from electronics right through to different types of snus. The key, though, is the ability to write killer descriptions that appeal to potential buyers and encourages them to make a purchase from the site.
Finance writing
We also write a variety of topics on finance. The type of task will, again, depend on the client and what their requirements are. In some cases, we will write how-to articles detailing aspects of finance that readers need to be aware of. We may ask you to write finance-related blog posts too, covering the different types of cryptocurrencies, for instance, that are available on the market. Often we will write reviews for a particular payment method, discussing their security levels.
Casino and online gaming writing
We also have iGaming related writing tasks. This can include anything from game or casino reviews right through to how-to guides on playing specific games, learning new betting techniques or even how to find the perfect online casino. You might also find yourself writing reviews on specific games, which can range from slots right through to live dealer games. All of these types of articles need to be fun and exciting, yet emphasis the need for responsible gaming.
Travel writing, food, sport and much more!
We also offer a range of tasks on a number of other topics too. This can include travel, where you will need to write guides of cities or countries detailing the attractions and the methods used to get around. Sometimes you might find some sports-related topics, and these can range from football through to more obscure sports such as Kabaddi. Food is another common topic, where you might be asked to review a restaurant – but there's so much more too.
Freelance writing job salary
When it comes to work from home writing jobs payment, we make everything as clear and transparent as possible. Beside each task in the system is the word count, along with the price you will get paid for each task. In this way, you will see what you get paid before you choose to accept the task. Tasks are paid per word written so you can compare the price with the word count.
Once you have chosen and taken on a task, you will only get the payment added to your account once the task has been completed and approved. You can find a list of the tasks you have completed, along with the payment owed, when you go to the 'Earnings' tab in your account. Here you can check the status of pending payments and keep track of your earnings as the end of the month draws near.
All payment is done at the end of the month. However, payment is made for tasks that were completed between the 11th and 10th of the preceding months. For instance, you will get paid at the end of March for work you did from February 11th to March 10th. You will be paid in full, but as you are a freelancer, you will have to pay tax yourself and organise what is owed to your government yourself.
Here is a summary of the freelance writing salary at Topcontent:
You will find several ready writing tasks in our system with payment determined for each one
 Payment is per word written
 Payments are made at the end of the month
 You will receive the payment of all approved tasks
 A minimum of 48 euros must be earned, all smaller amounts will be moved to the next month's payment
 You need to organise tax payment yourself according to the rules and regulations in the country of your residence (more information in our guide about payments).
Sign up and become a freelance writer today!
How to become a freelance translator
You can also work as a translator at Topcontent, as we write and produce content in over 15 different languages. We offer a number of different language pairs, so we welcome anyone who wishes to translate. If translating interests you, you will need to apply with us as we only take on experienced translators. After you have signed up in our system, you should follow the instructions how to become a translator.
Sign up and validate your account
Follow the instructions how to become a translator
Make sure you have translation skills and experience (and a way to prove it)
How to become a freelance proofreader
For some of you, when you have spent some time working at Topcontent, you may want to add proofreading to your list of skills. This can happen one of two ways – firstly, you can just simply ask your content manager and express interest in adding this skill to your work. The second option is that the content manager will contact you when they have seen that you have written enough words at a high enough quality to move on to proofreading. In this instance, the content manager will contact you to see if you are interested.
Sign up us a writer for Topcontent
Write a lot of high quality work
Get in touch with us and express your interest for proofreading (read from here how to get in touch with us)
Have the proofreading skill added to your account
Become a writer today!
Now that you've had a look at what online content writing entails, it's time for you to join us! Content writing is the perfect way to earn something extra, complete with the freedom to work from home and the ability to be flexible. In addition to this, you can write about fun topics, learning about different subjects as you do so. The signup process is simple; we're with you every step of the way. With our great feedback on your work, you'll even improve with us too! So, why not sign up with us today and see how much fun content writing with Topcontent can be?