Freelance Content Writer/Translator
Topcontent is a leading content creation & translation company. We work with a global team of writers who provide quality content for our clients in more than 30 languages. We have an amazing team of writers all over the globe whom we provide resources and support to be able to write quality content.
Are you ready to become a freelance writer and receive the entire payment you deserve without paying agency fees? Do you want to save time looking for clients when we can provide you with a platform full of tasks immediately available for you? If yes, then Topcontent is the right place for you!
We are currently growing our team and are looking for writers, proofreaders and translators in various languages to join our team!
This is an opportunity that allows you to work from home; literally from anywhere in the world. This could be a great way to earn money whilst studying, travelling or because you want to be your own boss, manage your own workload and earn as much as money as you want!
Requirements
You need to know one of the following languages at a native level:
English
Spanish
Swedish
Norwegian
Finnish
French
German
Dutch
Danish
Portuguese
Polish
Czech
Italian
Japanese
Chinese
Indonesian
You will need to have a minimum of one year of content writing experience.  It's important that you are able to write high-quality, fluent and grammatically correct text in your native language. Experience in casino writing is a bonus, but not a must since we have plenty of guides to help you out!
What will you do?
You will write, research and write some more!
We have a wide variety of topics that we need writers to write about. The main topics are:
Casino & sports betting
Online gaming & entertainment
Product descriptions for e-commerce businesses
Travel and health
Food and drink
Benefits you will enjoy
Remote work from anywhere in the world
Access to resources and feedback and support
You will decide how much work to take on and when to work
What sets Topcontent apart?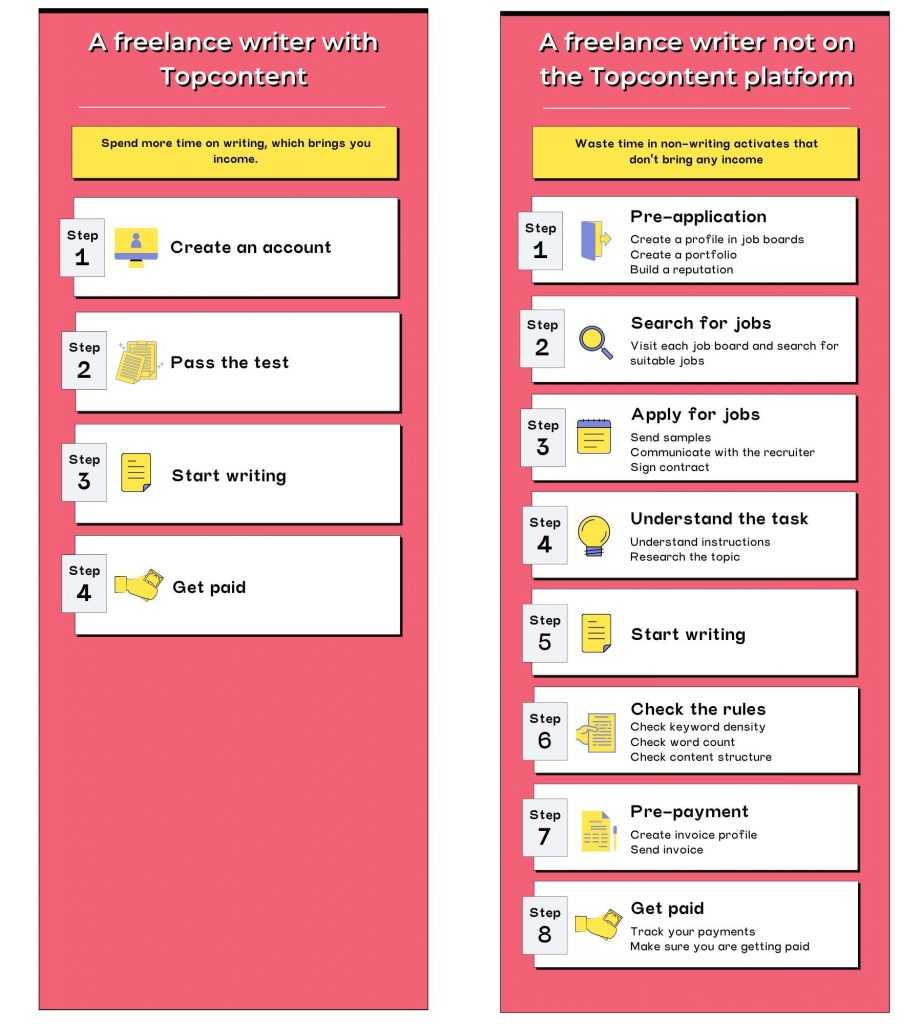 Renumeration
We have invested in a highly efficient platform for you to be able to write content accurately, yet quickly. Payment is a fixed price per task which is based on the language and the quality level required and is designed so that you can be paid at the equivalent of an attractive hourly rate. We don't pay per hour, we pay per task. With the experience you will gain in our system, and the availability of work, this will allow you to optimise your earning potential. 
You can see how much each task is worth in your task list, which you can find under your Task Board when you sign up to our system. You will always see upfront how much you will get paid before you even take the task to write, and you can follow your earnings and payments from your account. Don't forget, we save you the time of having to look for clients and nor are you charged any agency fees. What you earn, is all yours!
What's next?
Great news is, it's very simple! Just sign up to our system, choose your native language, follow the instructions to set up your account and start writing! Some languages require you to take a very quick grammar test so please make sure you take this test when you have the time and access to a computer. 
Read up more on how to Get Started when you become a freelancer with Topcontent.