Manage your content orders, buy articles online and have ready content delivered immediately when it's ready with Topcontent's Self-Service system.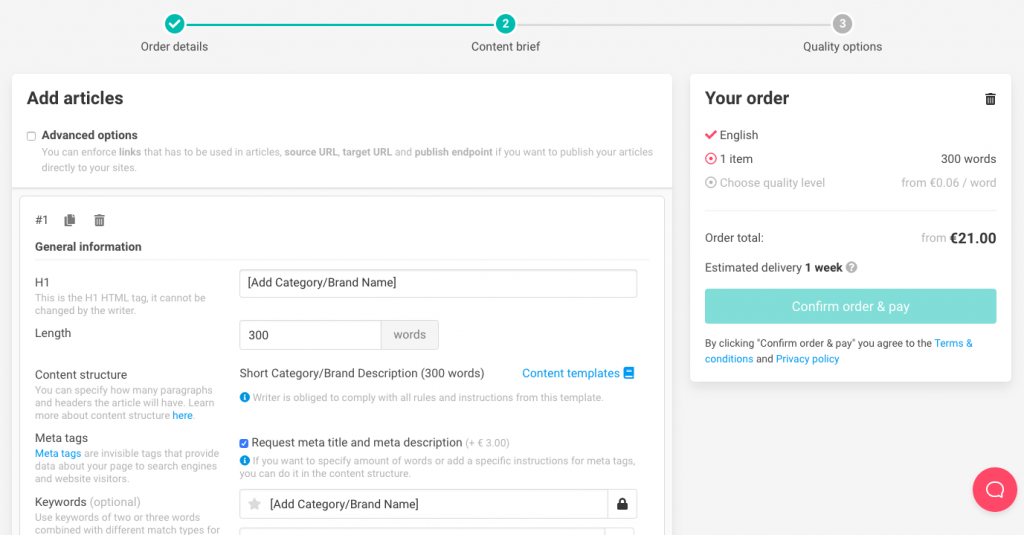 Via our Self-Service system you can buy blog articles and other types of content and translations – from product descriptions to game reviews, blog posts and travel content. No matter the topic, our content ordering platform is a one-stop shop for all your content needs. The sign up process is easy, the system is simple to use, and fast deliveries are guaranteed.
How can you buy articles from us?
1. Sign up
The sign-up-process is simple and straightforward. We only need your name, surname, email address and a strong password. That's it, your account is ready!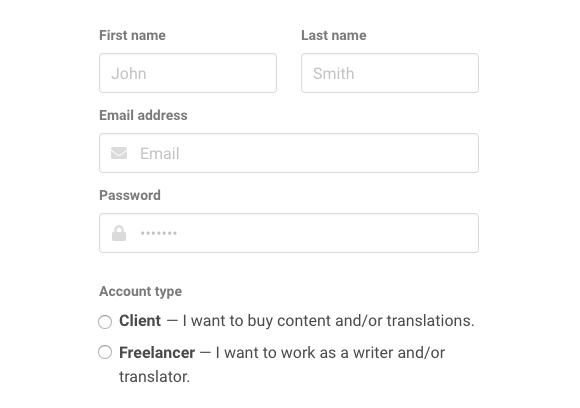 2. Top up
Once your account is successfully set up, you need to add your billing information in your profile. When that's done, you are ready to top up any amount you want to your account. You can choose the most suitable payment method from the options available (bank transfer, PayPal or credit card). Don't forget to take advantage of the Top-Up Bonus when you add credit to your account.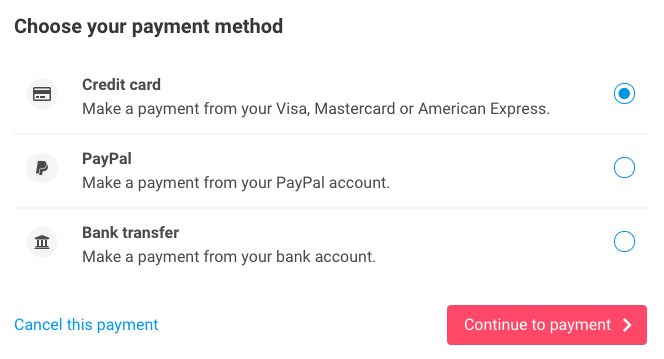 3. Place your order
When your account setup is done, it's time to place your order! There are no volume restrictions; you can order as many words as you wish or buy articles in bulk, the choice is yours. The system allows you freely select all order details from content templates to titles, keywords and anchors. Additionally, you can also choose from our comprehensive selection of ready-made content templates tailored for specific content needs. Using them will enable you to place your order fast – and have search engine optimized output with relevant keywords implemented in the language you have chosen.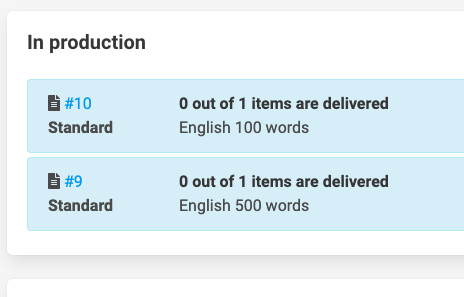 4. Keep track of orders and request revisions
You'll receive an email notification as soon as something is ready. When this happens, you can log back into the system and review your order. If you're happy with the outcome, just click "approve". That will make us happy too! In the unlikely event that you are not happy with what we delivered, you can request revisions and the text will be returned to our production team for inspection.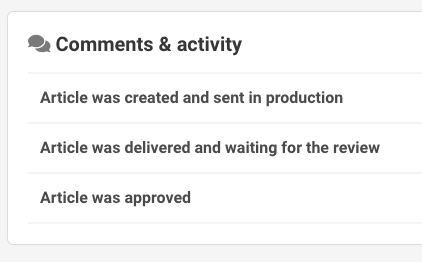 5. Download finished content in your preferred format or have it sent directly to your CMS
You can download finished content in different formats, or have it directly sent to your website's CMS using our various integration methods.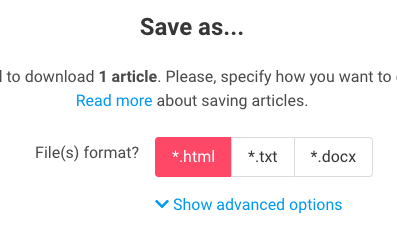 Frequently asked questions on buying articles
How much does it cost to buy SEO articles and other content via the Topcontent Self-Service?
We have a very clear pricing structure and you always pay per word. The price differs based on the language and quality level you have chosen. When you buy articles via our content ordering platform, the final price is always displayed when you confirm your order. Visit our pricing page to read more about our prices.
In what languages can I buy articles?
You can place content orders in more than 20 different languages and request translations in many language combinations.
How do I buy articles online?
Buying articles via our Self-Service is super easy. Once you have created an account and topped up credit, you can place an order. You only need to choose the language for your order, topic and fill out details, such as the number of words, keywords and add instructions for the writers. Once done, you just need to click "Next", pay and your order is sent to production!
How do I get content articles for my website?
There are many ways you can get content for your website. Once your order is finished, you can download it in your desired format (e.g. .docx or .html). We also offer an option to integrate your website's CMS with ours, and have finalised content sent directly to your website!
Which other features can I get for my content?
Our additional features help you save time!
You can get title tags and meta descriptions written for you. You can also get suitable images for your content with our "Image Selection Service". Just select how many images you want to add to an article and we will do the rest.
Image Selection Service explained
We will find an image that fits into the article. We will do so by searching on sites that publish images that are free to use for non-commercial purposes.
We do not sell any usage rights to the images and we (just like the sources we use) can't guarantee that the images will be free to use indefinitely.
Why is website content important?
High-quality content on your website is crucial if you want to improve your position in search engine results and have better conversion rates. With well-built content, you can also educate your users and engage with your readers, and thus improve your brand's image.