Have you heard of SEO and keyword research, but you're not sure what it all means or how it can benefit your bottom line? You're in the right place.
We'll define SEO, briefly explain keyword research and dive straight into why you should be doing keyword research for your online business.
What is SEO?
SEO stands for search engine optimisation. It means making changes to a website for visibility online when people search for a term on a search engine. The goal of SEO is to grow your organic presence. Your website pages are seen more, and people convert on your website, making you more money.
If this concept is farily new to you, check out our beginner's guide to SEO
What is keyword research?
Keyword research is the manual process of finding out what words or phrases people are typing into a search engine. Keywords will have different intentions, like commercially-driven and informational. Find relevant keywords. Check the search intent, and create content to meet it.
Use our keyword guide for SEO beginners to get started.
So what are the benefits of keyword research for businesses?
Understanding search intent
Understanding your online audience better
More sales
Identify new trends in the market
See new opportunities to market on social media
Better use of time
Build brand awareness in your country
1. Understanding search intent
What is search intent?
Search intent is the most important part of keyword research. The term is interchangeable with user intent. It means understanding what a person is looking for when they search. It sounds simple, but it's so often overlooked.
If you don't fully grasp the search intent of a keyword, you are likely to create content that doesn't meet the searcher's requirements. Then, you will either not rank because Google can see your content isn't fulfilling for that term. Or, you will rank out of luck, especially if you have a regularly updated website with strong domain authority.
But even if you do rank, you might not get organic clicks. If people do click your organic listing, they will bounce because they can see the content isn't what they're looking for.
Example of search intent
Let's say you're looking for a really quick recipe to cook a chicken meal so you search for quick and easy chicken-based meals. The results in Google load and you start looking through them. One of them mentions a total cook time of almost 2 hours, like this.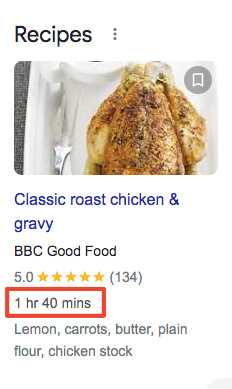 So, you don't click that one because you want a quick recipe and don't have time to dedicate hours slaving away in the kitchen. Instead, you move to the next recipe. You see several with less than 40 minutes. So you click one of those instead, like this.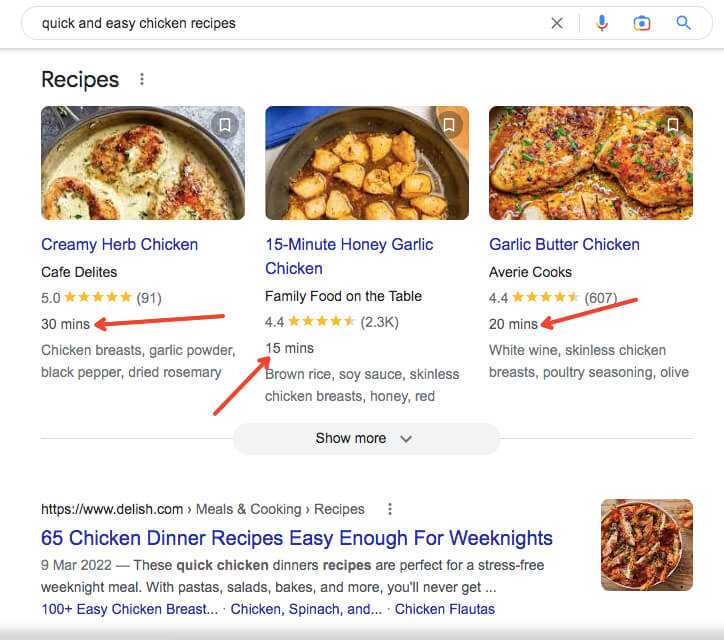 That's a prime example that demonstrates the impact incorrect search intent can have. The intent behind "quick and easy chicken recipes" is specified on the timeliness. If the search was "chicken recipes" or even "easy chicken recipes", an hour-long step-by-step recipe (if it's not complicated) would suffice to meet the search intent.
You can't rush it. Don't rustle up some half relevant content and hope for the best. You won't get the clicks.
That's why you should never rush keyword research. If you have a list of topical keywords, don't jump the gun and pass it straight to the content writer and graphic designer to make a whacky visual and a 500-word blog to go with it. Research the SERPs for that term first.
Follow these steps to check the keyword search intent. There are lots of ways to check the search intent, including these two.
Use a keyword tool like Ahrefs or SEMRush
Do an incognito search yourself manually
Always try and use a keyword tool to check search intent because if you do an incognito search, it uses data from previous searches and it's not technically a valid, accurate competitor check.
2. Understanding your online audience better and tailoring your content accordingly
Once you get into the process of keyword research, you'll start to understand the journey people go on to discover your product or service. You will see the types of keywords people search for, and each keyword will give you an insight into their understanding.
Here is an example. Let's say your business sells workplace productivity management software.
A HR manager has noticed an unusually high staff turnover or a department manager has mentioned in passing they've noticed a change in the employees' attitudes and productivity levels. After a few days, the HR manager may have slept on the matter, and then decided to do a Google search on the topic.
They might search for queries like these.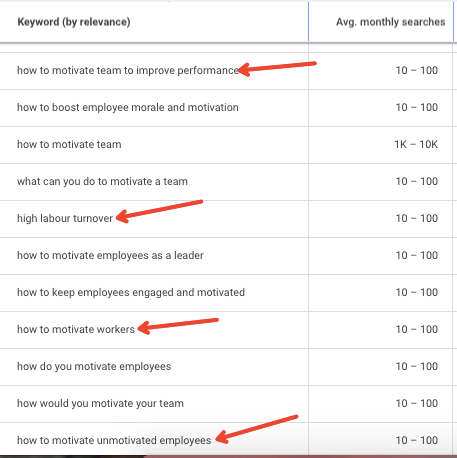 The takeaway here is that the HR manager may not know your software even exists. At this point, they have realised they have a potential problem with staff motivation and productivity.
So, you can't write an article about the benefits of your software and hope all the HR managers see it. Instead, create content to meet the searcher's intent.
Here is an example of how to do that.
Pain points from the searcher:
Worried their staff aren't motivated
Want to understand the reasons why
Wants to know if they can improve staff productivity, and how
The content you should therefore create:
Reassuring, but short and snappy video content – record a real person from your company talking from a "don't worry, we can help" angle
Explain briefly some reasons that staff motivation can be low – this will help resonate and make your searcher feel heard
Encourage the listener – list up to 5 easy effective solutions they can do
Finally, mention how your software can improve staff productivity
Once you've got your video, write up an accompanying article with complete meta data, and publish it with an SEO-friendly URL. You can learn more about how to create an SEO-friendly article.
Focus on providing educational and helpful information with a calm, friendly face at this point. Don't make your article or video too sales-focused. Remember, they didn't search looking for staff motivation software. They want some help, that's all.
Next up, let's say it's been over 6 months and the HR manager has:
Seen the staff turnover increase even further
Has had direct conversations with lots of very worried department staff
Had concerned questions from their line manager about why another two colleagues has handed their notice in
Seen several staff taking unusually long lunch breaks
Found out on Google there are software downloads that can encourage better staff motivation
Our searcher is ready to bite the bullet. Here are the new searches, 10 months on.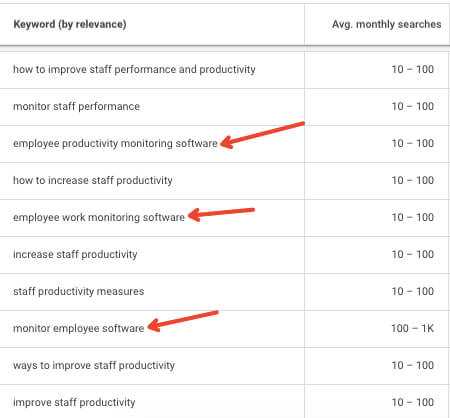 Now you should create content that's directly highlighting the benefits of your software. This should be a focused landing page to sell your product.
Ask yourself these questions and write content that answers them.
How will it incentivise staff effectively long term?
How will it help to reduce high staff turnover?
How will it make the HR manager's life easier and less stressful?
How will it get the HR manager's boss off their back?
This should help you understand how to create content for different searches along the user journey. But it should also help you understand what your typical customer's journey involves. You should know their thought process pretty well. Your website needs to show up in the SERPs as often and effectively as possible.
So, when the decision maker is nearly a year after making their first problem-based search, your brand is in their mind, not your competitor's. So, when they're ready to buy, they are likely to already trust you and your brand.
That gives you a much better chance of pushing them over that last hurdle with testimonial, review and discount content at the very bottom of the funnel.
3. More sales
Now we've demonstrated how you can show up for your searcher every step of their user journey, you can see how this turns into more sales for your bottom line in the long run.
Let's say you've got your main landing page targeting 'employee motivation software', which has a hypothetical search volume of 1000 searches a month. Its organic ranking for that term is 14th (on page 2) because the page hasn't been edited in a few years and the content is a little stale now. So, Google is ranking more updated websites in the top 3 because it trusts those websites more.
You're also running PR campaigns, social media ads, PPC campaigns and email marketing. Those work great, so you get some referral traffic to your landing page. It's optimised well for conversions, even though it's not on page 1 and optimised for organic search. So, you're getting 3 conversions a month.
Your product value is incredibly high and you have a very powerful sales team. So, those 3 conversions from your landing page often turn into at least 2 real sales.
Sounds good? It is.
But now you know the benefit of keyword research.
So the world is your oyster. You go ahead and do the keyword research for question terms like 'why is my staff turnover so high'.
You plan out your weekly content for the next 6 months, and you realise there are over 500,000 searches a month for your primary and secondary keywords. Plus, you do keyword research to refresh your main landing page. Then, it ranks position 2 organically.
The organic click-through rate (CTR) can reach 18% for the second organic listing. If your page is ranking any lower than the first page, you're not likely to get any clicks, depending on various factors.
12 months later…
You're getting hundreds and thousands of organic sessions to all your educational articles, videos and helpful content for people not ready to convert.
Not only that, you're getting 'x'% more organic clicks to your landing page, as well as the referral traffic from your other marketing campaigns.
You've drastically grown your organic presence. That is now getting you over 10 enquiries every week, compared to the hopeful 3 from last year.
4. Identify new trends in the market
As you've seen, keyword research gives you new insights into the ever-changing data of the searchers. You can also use tools like these to find out new trends in your market. You can then create topical content to engage your ideal customers. Show that your brand isn't losing track of the times, and is always there with the latest information to help them out.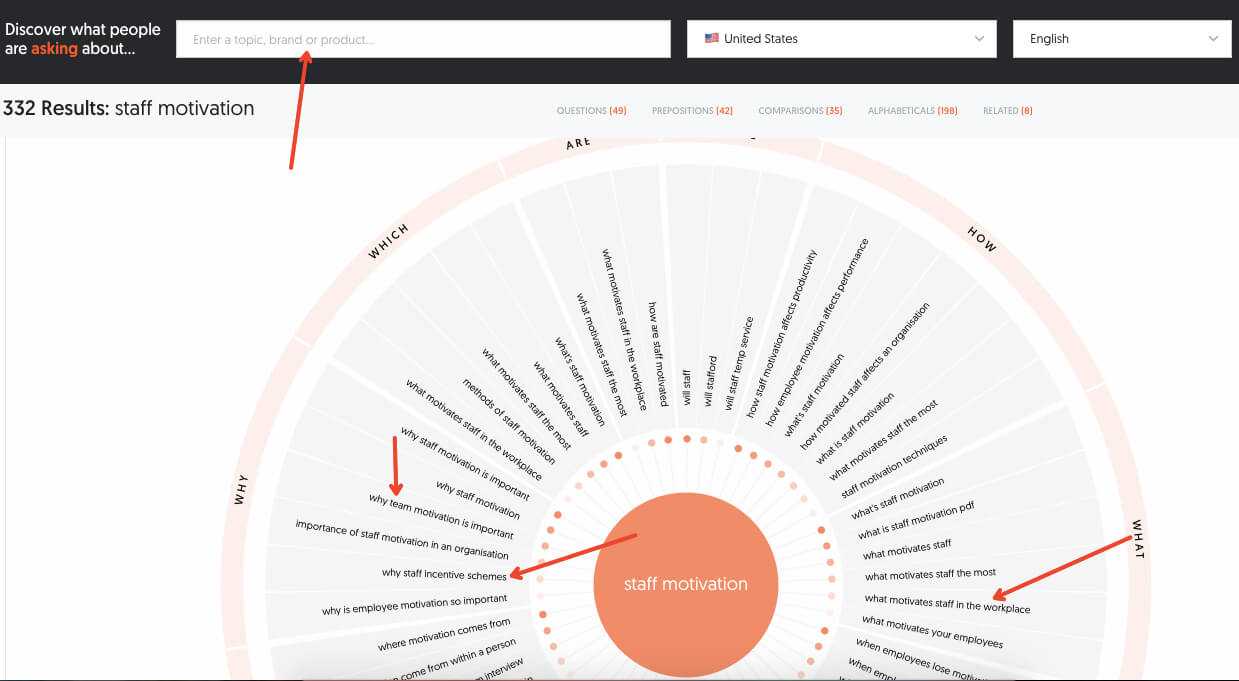 Google Trends – shows you historic data on trends in a given place, over a given time period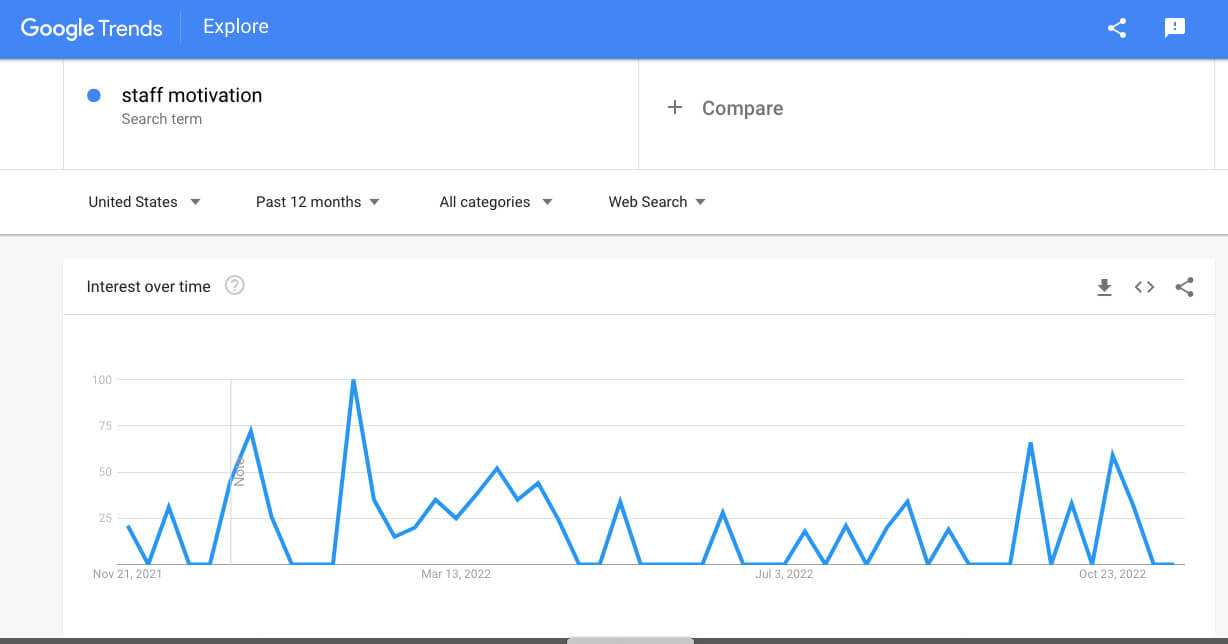 5. See new opportunities to market on social media
You are in the loop on the market trends. So, you have more to say on your social media channels. You can react fast when:
Something changes in the industry
A new product review comes out
An industry leader makes a statement
You see a new trend relevant to your product
You release an update or new product
6. Better use of time
Now you understand how keyword research can increase your business' sales. If you're too busy to do it all yourself, prioritise your time by outsourcing keyword gap analysis and content plan to Topcontent
You can research and schedule content creation for 6 months of high-intent, commercial pages because you understand the tangible impact it will have on your revenue. You trust the data. Keep on monitoring the most important SEO KPI's and improving your results based on data.
7. Build brand awareness in your country
Strong brand awareness is the last benefit of keyword research. But it is not the least important one. Use the keyword data to your advantage. The long-term result is a huge uplift in your organic presence. Over time, you'll start growing your brand awareness in your country. You will see more people searching for your brand in search engines like Google and Bing.
Let us write optimised content for your business' site
Need a top-quality, SEO writers? We have professional content writing services and offer SEO-optimised content in more than 20 languages.