Does your website need content often and fast? We have a perfect solution: our new and better Topcontent API. It enables all busy website owners and content professionals to connect with our system and get content delivered without any manual work.
Integrating your site with our new Topcontent API lets you enjoy tons of benefits:
Place orders directly from your CMS and have finished content delivered back automatically. No manual work!

All services in our self-service system are available through the API

You can use our Sandbox environment to test the connection 

And much more!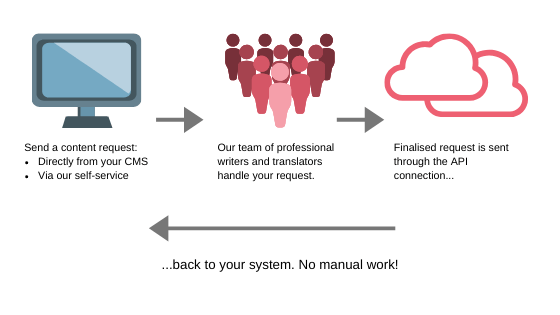 Are you ready to get rid of manual content publication?
We definitely are ready to help you! All you need to do is to create Topcontent account (or sign in), retrieve your unique API key from your account settings and set up the connection. All needed information for setting up the integration can be found in the Topcontent API documentation.
Do you need technical help with the setup? Contact us and we will support you through the steps!