Anyone selling products online will know that Amazon is the ultimate marketplace. With 4000 items sold every minute last year in the US, it's one of the best places to maximise your sales. But selling on Amazon is different to selling on your own e-commerce website. Your Amazon SEO strategy should be adapted from your regular SEO strategy, but tailored accordingly.
Amazon uses a search engine, so SEO plays a role just like with Google's search rankings. However, it also uses a system where the best-performing Amazon sellers rank highest, while those with fewer sales rank lower down. And with 2 million active sellers, the competition is fierce.
Basically, the more products you start to sell, the higher on the search results page you'll appear. But how to appear high enough on the results page to start gaining sales in the first place? Follow our Amazon SEO tips to boost your Amazon ranking and sell more products. 
Your Amazon SEO strategy should take into account two things: relevance and performance. These are the two main factors the Amazon algorithm looks at. The following tips will help you use these factors to improve your place in Amazon's results pages.
1. Do your keyword research
We can't stress enough the importance of keyword research. Essentially you need to put in the time to figure out exactly what your customers are searching for. Then tailor your keywords accordingly. Keywords play a crucial role in your Amazon SEO strategy, as we'll soon see, so don't skimp on this part. 
2. Create the perfect product title
Ideally your product title should include the essential information about your product, while remaining streamlined and focused. We never advise keyword stuffing, and it's even more important to avoid that here as it will make your listing look like spam. 
However, do include the main keyword once. You can also include helpful information such as:
Colour

Size

Quantity (if relevant) 

Materials/ingredients

Other unique selling points
This will allow customers to gather information about your product at a glance. For example, these photo frame listings all list similar, essential information.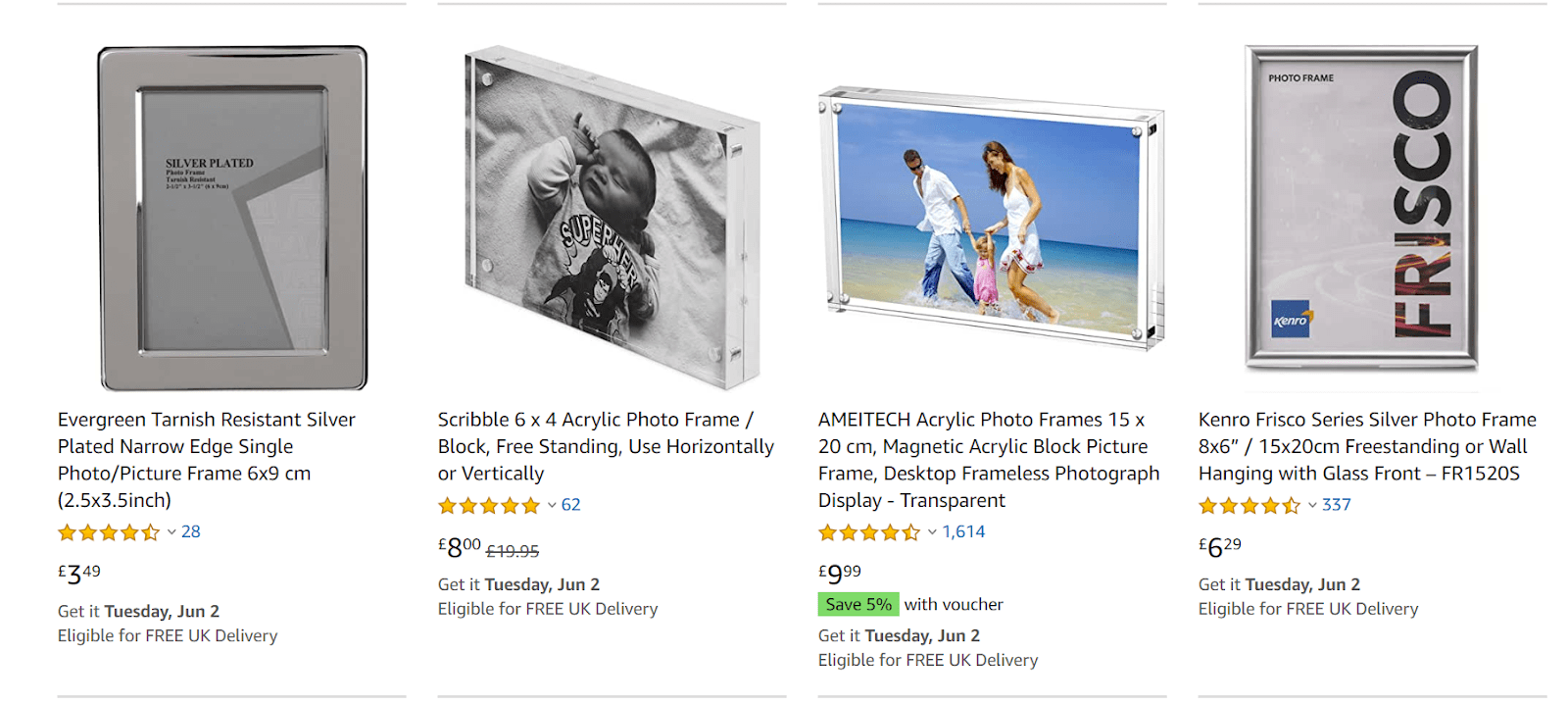 They start with the brand name (which is important for increasing visibility), then go on to list colour, dimensions, material and other relevant USPs such as 'freestanding' and 'frameless'. All include the keyword 'photo frame' – even the one that is frameless!
3. Get savvy with your seller name
If you can, get clever with your seller name. Use it to boost your rankings by having a main keyword in it. It makes sense that you might be able to rank higher if your seller name literally embodies the product you're selling. For example, look at the first result in this row.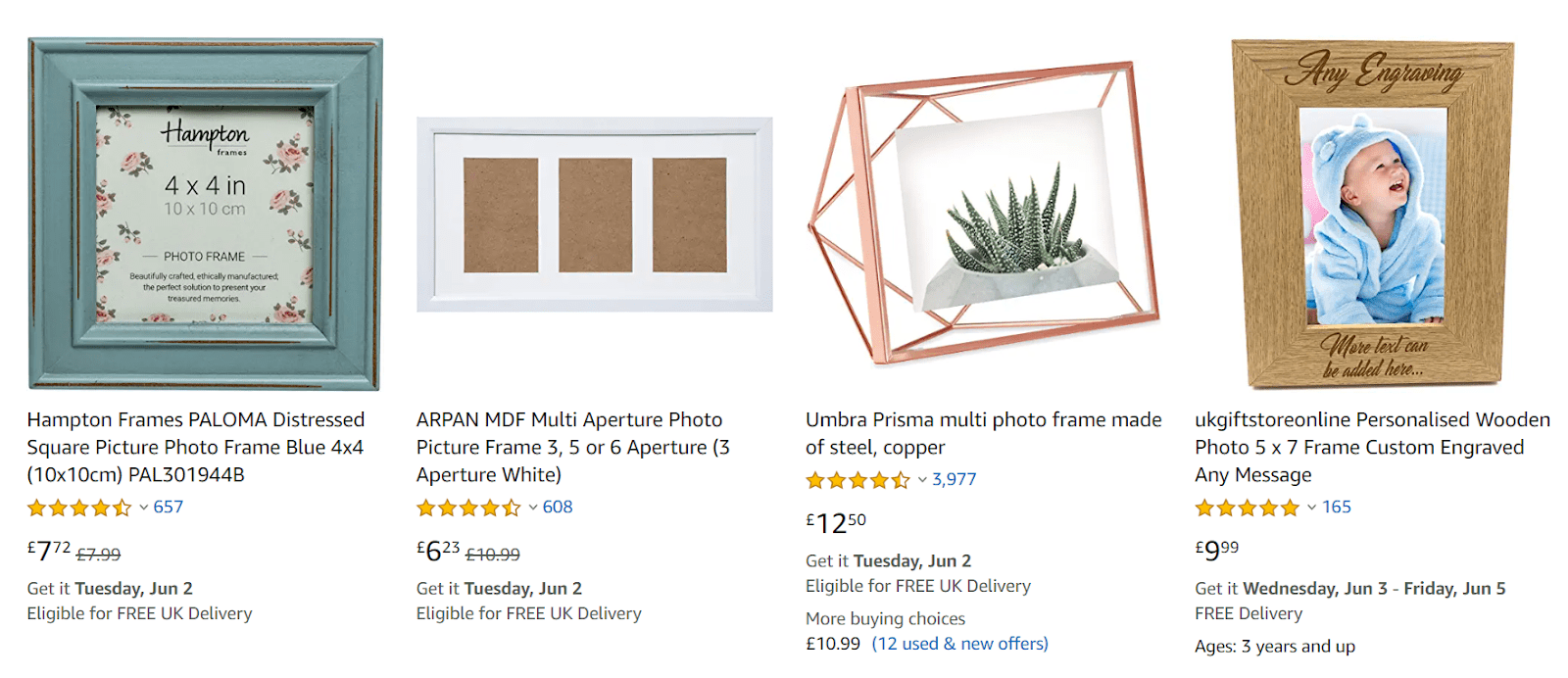 Hampton Frames have the added benefit of having the word 'frame' in their seller name. This could help boost their rankings, especially if customers are only searching 'frames', as opposed to 'photo frames'. 
4. Make the most of backend keywords
This is where your keyword research can really help you. Rather than trying to cram all your keywords and synonyms into your product title, Amazon allows you to input backend keywords. Backend keywords are a crucial part of SEO on Amazon. 
Unlike Google's algorithms, Amazon doesn't boost your ranking the more one specific keyword is listed. Once is enough to get you ranked. You have 250 characters for backend keywords, so don't waste your time repeating yourself. Synonyms are a great way to reach a greater audience, who may be searching for slightly different terms. For example, someone looking for a pillow might be searching for 'cushion', 'soft furnishings' or 'home decor'. You can include all of these in your backend keywords for extra reach.
Remember, you don't need to include punctuation when inputting them, just use spaces. Amazon will also take care of plurals too, so don't waste characters including 'cushion' and 'cushions'.
You can also use this space to reach a more international audience with translated keywords. But beware, Amazon does count letters with accents, such as é, as two characters. 
5. Keep your pricing competitive
This one should be a no-brainer, but don't do yourself a disservice by overpricing your products in such a competitive arena. Obviously you don't want to sell yourself short and you need to make a profit, but if your prices are way above your competitors', you will rank beneath them. Amazon will estimate that you'll sell fewer products at a higher price, hence the lower ranking. 
Unless you have thousands of stellar reviews which justify higher pricing, you need to stay realistic. Which leads us to…
6. Try to gather positive reviews
Any business owner will know already how much reviews can help or hinder a business. A report from Clavis Insight in 2018 showed that a minimum of 21 4-star reviews is necessary on a product page on Amazon to gain traction with customers. Reviews help customers decide whether a brand is trustworthy and the products high quality. They can really make or break your sales. 
Amazon rightly cracked down on fake reviews, so there's no quick trick to this one. Encourage customers to leave a review once they've bought an item by dropping them a polite, friendly email reminder. 
Negative reviews are not ideal, but try to use them as a learning experience. Is there something you can improve on in terms of customer service, shipping, or product quality? Take your customer feedback into consideration and aim to do better next time. 
7. Use high-quality images
Customers want to be able to see exactly what they're buying before they buy it. If you're in the market for a quality watch or a high-tech gadget, you're not going to trust a seller whose photos look like they've been taken in a basement. 
You can either keep it simple with just a product shot on a white background, or you can style it. You can see that seven out of ten sellers below have opted for simple, but the lifestyle shots do stand out. They can help customers visualise what the product will look like in their own home, as well as give a good size reference.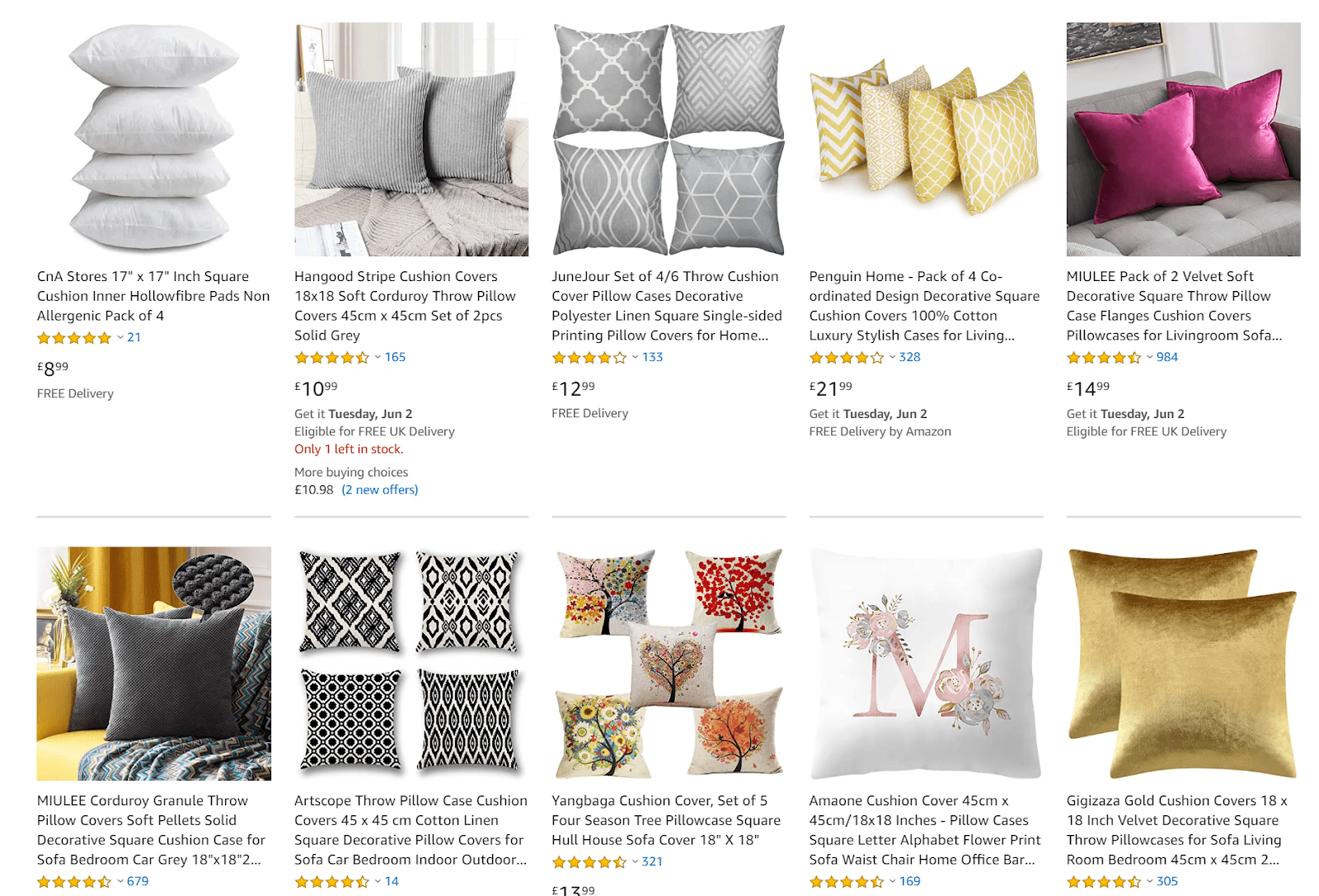 Make sure you take Amazon's own guidelines on image dimensions when uploading your product image to stay in the Amazon SEO good books. 
8. Put the effort into product descriptions and bullet points
These are possibly the most important part of your Amazon SEO strategy. The product description should be clean, readable copy which includes your keywords and synonyms. However, make sure you include them naturally, as keyword stuffing will result in clunky, stilted copy. This is where you need to tell your product's story, appealing to the reader's emotions to encourage them to click that 'add to basket' button.  
Bullet points are perfect for customers who are looking to gain information about a product quickly. Each bullet point should be no more than two lines ideally, and each should offer new information. Don't repeat yourself. Outline the benefits of the product, what makes it unique to the market, and give the essential information like dimensions, colour options, and other important product features. 
Getting these wrong can lead to high bounce rates. Long blocks of text will discourage readers, as will awkwardly written or overly long bullet points. This might be where it's a good idea to call in someone who knows exactly what they're doing. 
Let the experts help you
Our Amazon product description writing services can vastly improve your Amazon SEO strategy. We know how to write product descriptions that will help you rank higher and encourage customers to purchase your products. With buyer persona-based descriptions and proper keywords, we'll have you topping the results pages and selling products faster than ever. 
Contact us today for a free quote or sign up and place your order!