You asked for it, and we made it happen. We are thrilled to announce the launch of the Teams feature in our self-service. It enables you to collaborate with your team using only one account for ordering content. 
Forget the hassle of trying to follow up with content orders made by different users via multiple accounts. Create one account, invite your whole team and place content orders in one place. With the Teams feature you'll have full overview of all orders, and different team members can have specific permissions to place orders and review finalised content. 
How does the Teams feature work?
Create one account for your whole team

Invite all your team members by filling out their emails and granting specific permissions

One person can be responsible of placing content orders, one can review finalised content (e.g. native speaker for a specific language) and another can be in charge of the balance – the choice is yours!

Have full control of who can see and access what parts of the content ordering process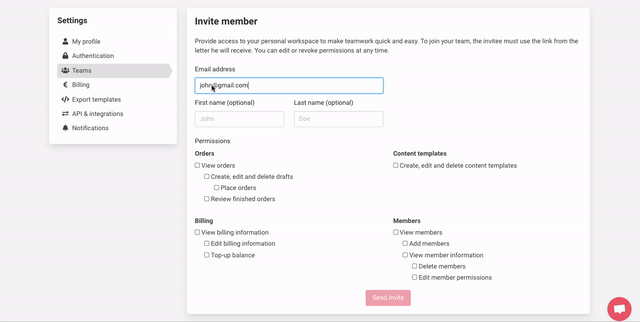 Benefits of the Teams feature
Gain efficiency – Say goodbye to extra communication about the status of specific content for your website. With the Teams feature your whole team works in the same place, and you can follow up each order in the same dashboard. When you combine collaboration with automated publishing, you can achieve the ultimate efficiency.
Save time

– When everyone collaborates via one account, you save time when you don't need to brief different team members and other colleagues. Content processes, such as structures and tone of voice guides, can be stored in the same place and used for all content orders – no matter who places the order.

Improve teamwork

– When everyone works in the same place, you can improve your team spirit and collaboration. 

Better cost follow up – One account means also one balance. This makes it easier for you to follow up your content budget and spendings each month.
How to get started?
The Teams feature is available for all existing accounts – and it's free! You don't need to pay any extra to invite multiple users. If you already have a Topcontent account, log in, head over to the "Teams" section in your account settings and start to build your team. If you don't have an account yet, create one and follow the same steps.