Name: Elina Özek (Pöyry)
Role: Content Manager
Location: Istanbul, Turkey
Thank you, Elina for taking the time to have a chat with me. I'm really excited that our readers are going to hear from you and get to know you. Elina, you've been with Topcontent for over a year now. Can you tell us a little more about your role and what you do with Topcontent?
I work as a Content Manager mainly dealing with Finnish projects. Simply said, I manage the content projects from A to B within the agreed deadline, but in between fits a lot of different steps. I'm involved in "translating" the client requirements to clear instructions for our freelancers, managing the project in our internal tools, quality checking the texts and, my favourite part, guiding our writers and proofreaders to succeed in their work.
Other than managing the projects, I also participate in other tasks and help to improve the tools and work processes for everyone involved.
Elina, you're also one of our many remote workers. A Finnish living in Turkey sounds pretty exotic! How is life there? What's special about Turkey?
Yes, I have lived in Istanbul since 2011. In Turkey, it's very difficult to get bored! The country is so rich in history and it's such a unique location. It's a mixture of everything: culture, history, food, nature etc. I'm a huge fan of Turkish food; each part of the country has its own food culture based on the available ingredients in the area. I also enjoy travelling regularly around the country and exploring all the different natural, cultural and historical sights it has to offer.
Ok, so what made you think that this role at Topcontent was one that you wanted to apply for?
I used to work in a normal 9-5 office job in Istanbul for several years. The city is huge, and most people are not lucky to land a job near their home (including me). A commute between continents, when one part of the city is in Europe and one in Asia, in a city of close to 20 million inhabitants, is not pleasant! I have always worked in online marketing and knew that almost any job in my field of expertise could be done remotely with just an internet connection, so I had dreamt about a remote work for a long time and escaping the 9-5 job. So when I came across with the Content Manager position at Topcontent I knew I had to get it! Being able to work with my mother tongue Finnish was also a huge plus.
Ah, escaping the 9-5 job is something that is spoken about a lot nowadays. Do you feel you really have escaped it?
Definitely! After escaping the 9-5 job, during the past year, I have never had a Monday syndrome! I am also free to travel around and visit my family and friends in Finland more often as I'm not tied to a certain location. Small perks like joining a yoga lesson in the middle of the day also always brighten my day – something more difficult to arrange while working in an office.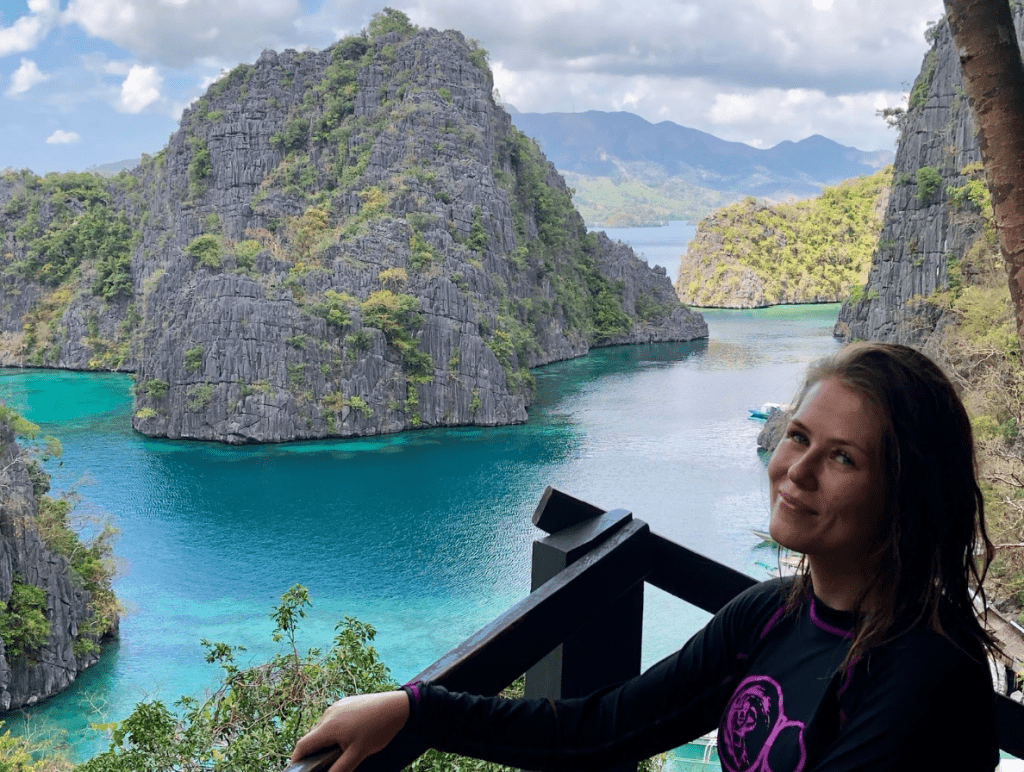 So many people talk about flexible working, and remote working and not being tied down by an office and a 9-5 job. What tips can you share with people who are looking for what you actually have right now?
First, you must decide if escaping the 9-5 job and remote working is really for you. Working remotely means there are no colleagues sitting next to you or nobody to chat within the kitchen. Many people have said to me they envy my freedom and flexibility but would not be able to give up the social part of working in an office.
If you think it's the right way of working for you and you are ready to escape the 9-5 job, then Google is your friend! After some research, you will find out that so many things can be done remotely; development, customer service, teaching, content writing etc. You can either apply directly to work for a company or go for freelancing, as all of our writers do. You just need to find what you want to do, how to do it and then go for it!
With all of that said, what is the most important thing/most valuable lesson you have learnt in your time with Topcontent in order to make remote working successful?
Communication is really important, especially for a remote organization. Also building a friendly and well-working team makes work more enjoyable – remote working can sometimes get lonely, but a great team (even if just via email or Slack) will always bring a smile to your face.
You're considered a mentor for our writers. What advice do you have to share with them so that they can become even better at what they do?
Always read the instructions! I cannot emphasize the importance of this enough. So often good texts are sent back to be fixed just because all instructions were not taken into consideration, which in the worst case can lead to double work. Also take all feedback constructively because it's given in order to help you improve, not criticize your skills. Last but not least, take advantage of all the guides available. They include a lot of information about everything you might need to complete the tasks.
We're all about fun so tell us a fun fact about yourself? Throw in a photo too! 🙂
I'm the most unfortunate crazy cat lady in the world! I love all kinds of furry animals, especially cats and dogs, but due to my allergies, I could never have one of my own at home. However, Istanbul is known for its stray cats and dogs and I give my love to all of them! Especially cats! They are everywhere – in cafes, restaurants and next to apartment buildings where all animal loving city people like me take care of them. My phone is full of pictures of cats, groups of cats, me with cats… which my friends are already bored of receiving them all via Whatsapp! Maybe it's good I cannot take them home or I'd literally be a crazy cat/dog lady.