Name: Asta Siiskonen
Role: Senior Content Manager
Location: Madrid, Spain
When did you join Topcontent and what is your role?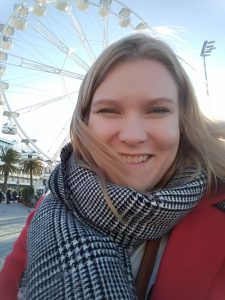 I signed up as a Finnish freelancer in Autumn 2014. I combined writing and doing translations with my studies, and when in 2015 I was offered Content Manager position in Malta, I didn't think twice and packed my bags. I had a wonderful year at the Malta office (still visit the island regularly), but in 2016 life took me back to Spain where I had lived before. Wedding bells rang, but work kept going as usual despite the distance, and after there has been several new remote vacancies for brilliant people around the globe.
And what exactly do you do as a Content Manager?
Content managers are responsible of the production and processes. We transform the content or translation order coming from sales to a format that our system supports. We add instructions to freelancers, and make sure tasks are grabbed so that the deadline is met. Once all tasks in a project have been completed (and checked), we export the text and return it to sales, nicely wrapped ready to deliver to the client.
So you said you work remotely on your own from home. How does that work?
As everything in life, working from home has its pros and cons. I absolutely love that I don't need to spend time to get to work and that opening my laptop is enough. It also gives more freedom; I can work a few hours from a quiet café or library for example. Not to mention other cities and countries! What is very important though, is that I create a calm atmosphere and eliminate distractions. No watching TV or doing any other household tasks during working hours!
Wow you live in Madrid? I love that city! What is a must see/do/eat if anyone visits there?
I could write a travel guide about Madrid but let's keep it simple: start your day in a local caféteria ordering café con leche and pan tumaca (toast with fresh,smashed tomato and olive oil). If you´re into shopping, do that when the shops open at 10, otherwise it will get crazy busy. Visit Palacio Real, Opera, Sol and Cibeles, or have a picnic at beautiful Retiro-park. Lunch-menus are great; you get a starter, main, dessert and a drink for around 12-18 euros. In the afternoon you can visit some museums such as Prado, Thyssen or Reina Sofia. Once that's done, enjoy some cocktails at one of the Madrid´s lovely rooftop terraces and end the day watching sunset at Temblo de Debod. Then it's dinner time (yes, Spaniards eat very late) and after you can enjoy a flamenco show, or simple dance the night away.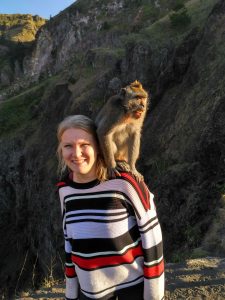 Ok, back to work, what is your favourite part of your role?
Fitting the pieces to together. My work is often like a puzzle. A Text order itself doesn't necessarily say much, so we content managers must imagine how we'd like the ready article to look like for the client and adjust the instructions and structure accordingly. It's rewarding to plan a content for a site, and come up with topics that are engaging, useful and interesting to read.
What is the most important thing/most valuable lesson you have learnt in your years with Topcontent?
There's always a solution to everything no matter how difficult the situation might seem. Fear not!
What is the most common mistake you see from writers and what advice do you have for writers out there?
Read the instructions. Really. Sounds simple but too often we see texts that have very little do to the actual order meaning that we need to reject the task and start all over. Good article is about the requested topic and follows the path we have laid out.
Pro tip: Before typing anything in the system, read the info, and draw a mind map. This helps you to become a more versatile and creative writer. Structure your ideas in a logic way and present your text in a easily readable form.
What are your top five tips on working remotely?
Have your working hours planned – don't wait until you "feel like it".
Dedicate a certain place for work – this can be a separate room, or just a corner of your dining table.
Organize your day. A to-do-list helps you focus to the important matters and know what can wait.
Time your typing. It´s important to know approximately how many words you can write /proofread in an hour. You can manage your time more efficiently when you have an idea how long every task takes to accomplish.
Alter your days. Sitting at home alone can become boring. Take your "office" outside for an hour, or visit a co-working space to meet like-minded professionals.
Finally, tell us something cool about you that most people don't know?
I have natural talent for stand-up paddle boarding (SUP). I´m very good at it despite how little I've  been able to practice. Madrid needs sea, lake, pool, anything for it! 🙂