One of the most popular sites for bargain hunters is undoubtedly eBay. Here, as the site itself proclaims, customers can "shop for anything" at unbelievably inexpensive prices. These prices could for example never be matched at brick-and-mortar stores. Of particular popularity are eBay's auctions, because buyers can place bids in an effort to "win" items at a good price. What most customers aren't aware of though, is that eBay – quite by accident – offers another way of saving a few euros. This obscure loophole is almost laughingly simple and lies in the misspellings on item listings by sellers. Interested in how to save money on eBay?
How can I save money on eBay using this loophole?
Say you were looking to replace some malfunctioning computer hardware for your office, but you've never been a good typist and your typing skills get worse when you're under pressure. So you punch in "wierless router", "wireless oruter" and "wireless route" before finally getting it right. With one eye on the clock, you gulp down the last of your stone-cold coffee, manage to locate what you're looking for and make a hasty purchase.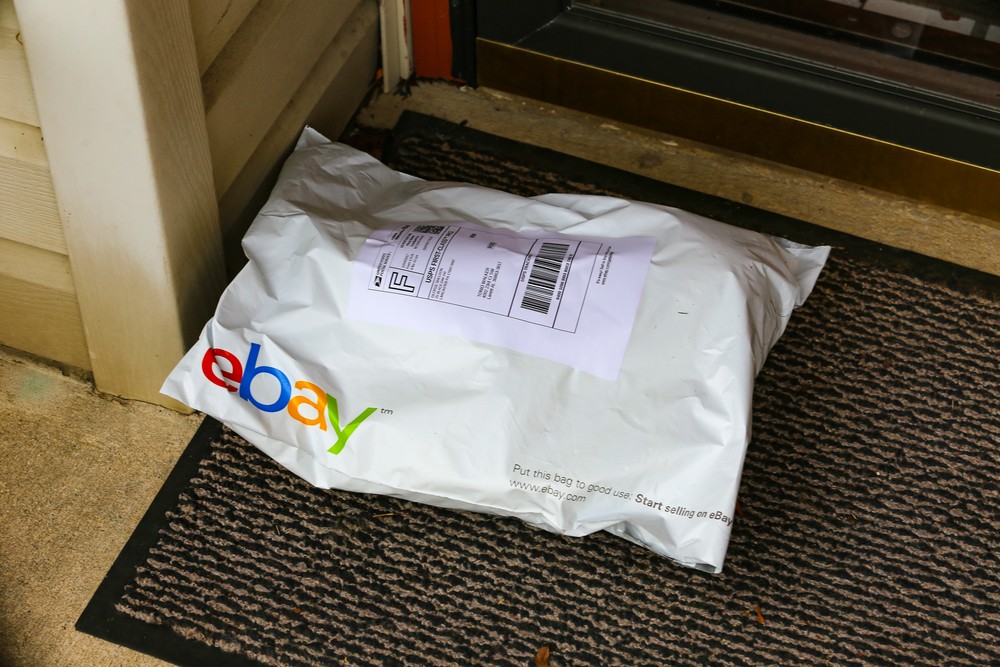 But what if the scenario was different? For example, what if instead of a potential buyer you were a seller listing an item in the hope of making some money off it? And what if that seller didn't realise their first, second or third attempt at spelling their listing was wrong before pressing enter? The mind-blowing fact is that actually, this happens way more often than you would think. And that means that hundreds of thousands of "moniters", "snasumgs" and "nikees" are up for the taking. Someone only need to search for them! And it means that, unless they are stumbled on accidentally, they won't crop up in customer searches. Therefore, keeping their prices fantastically low.
Undiscover the savings
Awareness of this not-so-little loophole opens up a multitude of possibilities for your business. Conducting a little preliminary research was all it took for us to come up with a mind-boggling list (see below) of commonly misspelt words on eBay – words whose corresponding listings can be procured for a fraction of the price of their correctly spelt counterparts.
| | |
| --- | --- |
| Misspelt word | Commonly misspelt listings |
| stationery | sationery, sttionery, staionery, statinery |
| Samsung | Smsung, smasung, Samsun, sansmug, samusng |
| mobile | mobil, moble, moible |
| monitor | moniter, monto, monito, mointor |
| digital | digita, digial, digtal, digtial |
| uniform | unifom, unifrom, uuniform, unifform, unifiom |
| Armani | Amani, Arani, Armni, Armai, Armaani |
| Rolex | Rlex, Roex, Rolx, RRolex, Rollex |
Knowing about the existence of these errors does more than help you brush up on your spelling skills. Intentionally searching for these undiscovered, misspelt listings is a recommended, almost necessary skill if you really want to save some serious money on your expenses. But, considering the massive variety of typos, slip-ups and downright blunders, it would hardly be feasible to predict and painstakingly search for each of the – sometimes thousands – of different versions the same item might be listed under.
There's an easier way!
Luckily, we're not the only ones who've caught on to this, and the beauty of the internet has once again come to the rescue… Over the last few years, dozens of sites claiming to help customers unearth those tasty hidden listings have sprung up. Most of these work much like search engines. Simply input your item (correctly spelt) and the site will bring up hundreds of misspelt options to help you save money on eBay. All hits are put there by sellers who will (eventually) rue the day they didn't use spell check.
Nobids.net is one example of these useful sites (with great fun!).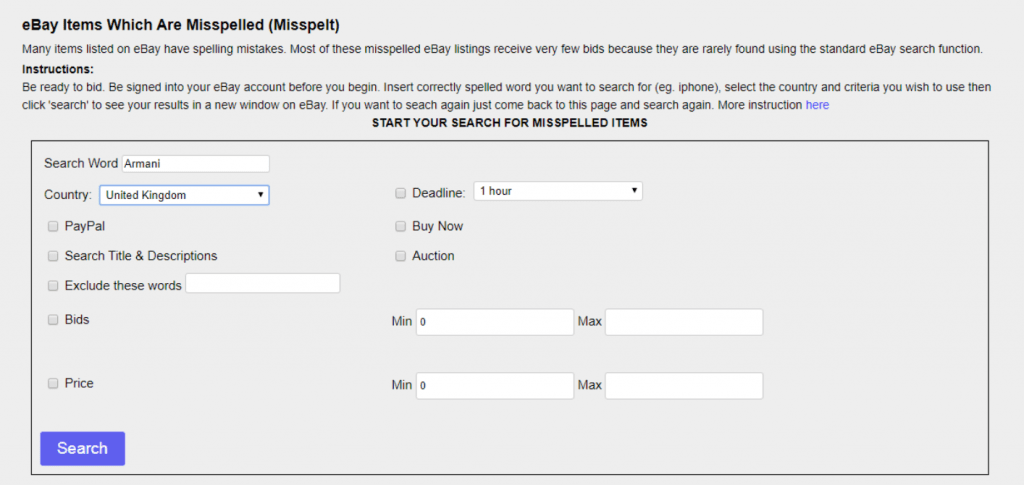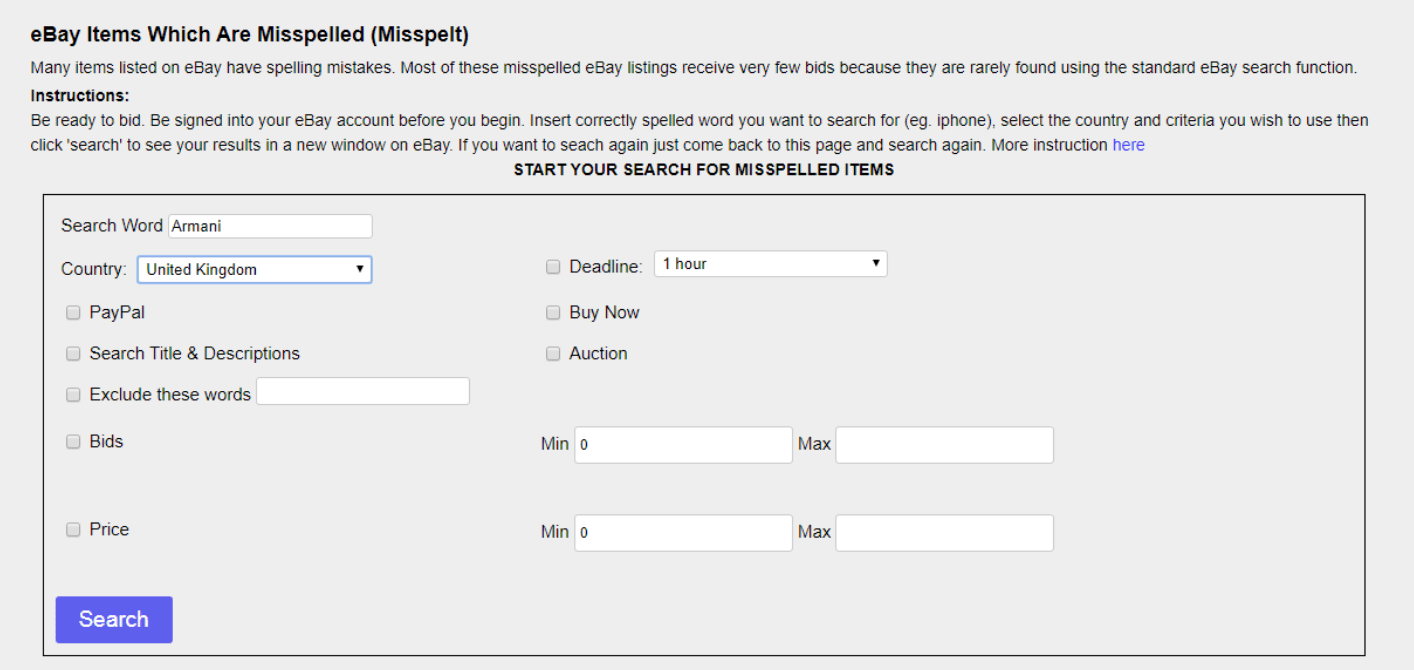 Simply inputting "Armani" into nobids.net helped us find a fantastic men's watch for only £80.00.  Sure, that might not exactly strike you as the cheapest end of the stick, especially with an additional £20.00 for post and packaging. But, with only a couple of days left on the auction and exactly 0 bids made, there's a good chance one lucky customer might snap it up. On the other hand, the exact same model (search keyword correctly spelt) can be found on ebay.co.uk for £99.00, with six days left on auction! And, as can be seen in the screenshot above, bargain hunters can use filters to narrow down their searches by country, price, deadline, as well as a couple of other useful features. Dressing up suavely has never been so easy!
Dozens of other similar offers await at your fingertips if you are just aware of how to find them. So – since we like to make things easy for you, we've made it our job to locate some of the best typo and spelling hound sites out there! Check out our list below:
You've seen for yourself how the importance of having the right keywords can make or break you! At Topcontent, our life's job is to help you make more money by knowing exactly what to say, how to say it, and where! Drop us a line for a quote here!