We know that content is key in driving more traffic to your website and in improving conversion rates. We also know that you need quite a lot of content to be able to reach those goals. Our solution to help you achieve them is our bulk ordering feature; it will minimise manual work when ordering content.
How our bulk ordering feature helps you minimise manual work?
Our bulk ordering feature enables you to order large volumes of content with zero effort. You only need to take four steps after you have started a new order:
Download the bulk ordering document.
Fill out your content plan. We have included a possibility for you to select your publishing endpoint and publication date directly in the bulk order file. This means you can save time later, as you won't need to manually publish content on your site – the system does it for you!
Upload the finalised document and place your order.
Gain efficiency in the future when you make similar orders, as the file you used is saved in the system and you can reuse it as many times as needed.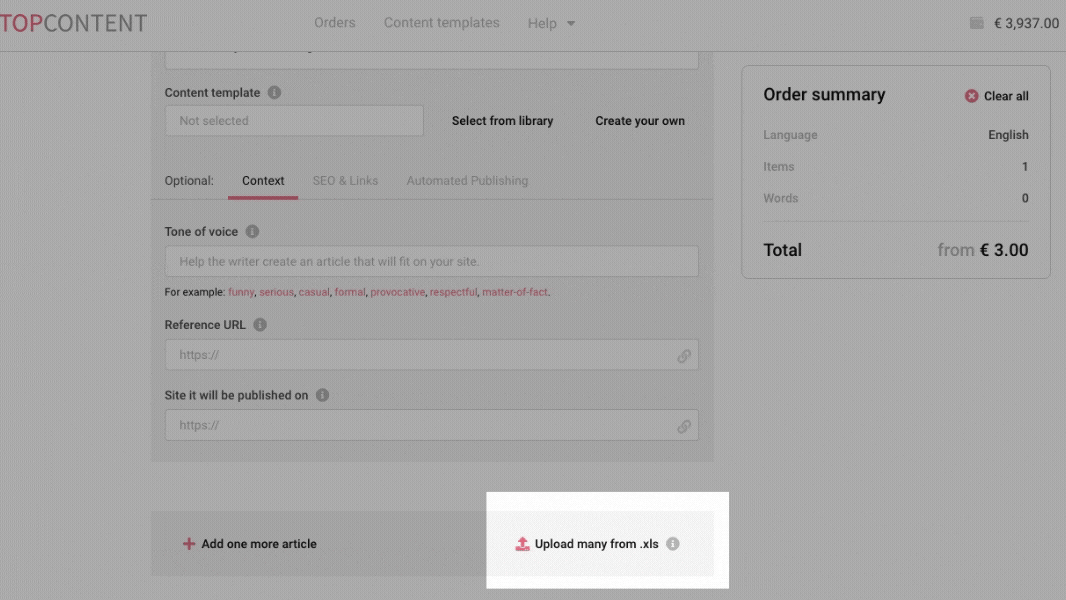 Next steps
Log in to your Topcontent account or sign up as a user. The bulk ordering feature is available from your first order! You can check out our guide about how to add many articles at once to an order before using the feature.