We've lost count of the number of times we've stressed that having great content is crucial to your success. However, great content alone is not enough. You could pen the freshest and most relevant blog post, or put together helpful and entertaining listicles, but without a digital content strategy, your time is wasted. Without a digital content strategy, you can practically hear the crickets chirping and see the tumbleweed rolling past. Without a digital content strategy, you are essentially shouting into the void. 
So what exactly is a digital content strategy?
A digital content strategy is a way of managing your digital content creation to provide the best results for your business. It's a plan that you put in place to make the most out of your digital content and achieve your marketing goals. 
A content strategy plan makes your content work for you. With a successful plan, you can:
Develop awareness around your brand

Gain a reliable and trustworthy reputation 

Drive more traffic to your site

Generate more leads

Increase your sales
Sounds good, no? So if you're looking for a content strategy example to help you achieve these goals, look no further. We're here to help. 
Defining digital content
First of all, what is digital content? Let's define it so we're all on the same page. Digital content is any media that you create and then upload online. It can be anything from a 150-character tweet to a 100-page ebook, and everything in between. Blog posts, templates, social media posts, newsletters, listicles, interviews, articles – all of these are examples of digital content. They all allow you to develop your brand, share your knowledge, and interact more with your target audience. 
Now we've got that cleared up, let's move on to how to create a content strategy. 
1. Know your target audience
Identifying your target audience is the crucial first step to a stellar digital content strategy. Without defining your target audience, how can you know which content will appeal to them the most? 
Put the time in when it comes to researching your intended audience and it will pay dividends later. If you're selling luggage then you might want to target millennial travellers. If you're selling accountancy software for businesses, rather than individuals, then they are who you want to reach. Once you've identified your future customers, you can tailor your content to fit them. 
You can clearly see the difference between the two websites. The accountancy software site is streamlined, focused and professional. Meanwhile, the travel website has more of a visual, aspirational focus, as well as lots of seasonal content to draw in readers who have been affected by current events. 
A listicle of the best bars in New York will be appealing to a younger, travel-oriented audience. But if you're selling accountancy software, it's probably not appropriate. Likewise, an informative article filled with industry insights and infographics is going to send your millennial travellers to sleep. 
Building customer profiles is a great way to pinpoint your audience. You can use surveys, interviews and focus groups to find out the details of your intended audience. Things like age, spending habits, profession and hobbies can all help you create content that will appeal directly to them. 
2. Do thorough keyword research
Once you've researched your target audience, it's time for more research! We promise it will all be worth it. We delved into the importance of keyword research in this post. Basically, you need to find out exactly what your customers are searching for and tailor your content strategy plan accordingly. 
By finding out exactly what queries or key phrases your potential clients are searching for, you can make sure your content taps into that. Building your content around these keywords will drive your more traffic to your site and hopefully yield a high conversion rate. 
Read more about keyword research from our blog post "The Keyword Guide for SEO Beginners"
3. Keep an eye on competitors and trends
Whatever your competitors are doing, you can do better. Seriously. Flaunt your knowledge and make sure your customers know you as an expert in your field. Your competitor has a list of the Seven Best Restaurants in Paris? Do your research and come up with ten. Even better, sniff out Ten Little-Known Places for the Best Charcuterie in Paris. You get it. Demonstrate your expertise and own your niche. 
Meanwhile, Google Trends is an invaluable source for your digital content strategy. This allows you to see what users are searching on any given day. You can change the location on Google Trends to discover what is trending all over the world. If you have an international audience, this is a gamechanger. 
Evergreen content which stays relevant all year round and draws in traffic continually should make up the bulk of your content. However, you should definitely be tapping into seasonal content when appropriate. Seasonal content keeps your website looking fresh and exciting, and as such is a necessary part of your content development strategy. 
As you saw in the website examples above, Travel & Leisure has posts relating to the Covid-19 pandemic currently sweeping the globe. To not acknowledge such an important topic, especially as a travel company, could make you seem out of touch and even ignorant. 
Another good example is FitBit's blog at the moment: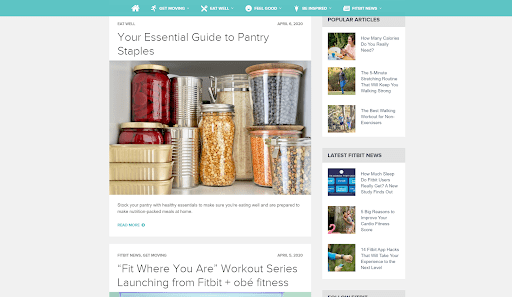 It shows sensitivity to current events, while keeping readers informed, safe and healthy with relevant content. 
4. Pay attention to how your content looks
Now that you know exactly what digital content you should be producing and for whom, it's time to think about how to deliver it in the most efficient way. This means thinking about how your content is going to look on screen. Will the title encourage the reader to click through? Will the format incite them to read all the way until the end? Have you used the right tone for your audience? All of this bears thinking about and plays an important role in your web content strategy. (And if it seems like too much, contact us and our copywriters can take care of it for you.)
We've got blogs galore that can help you with this, including:
5. Create a schedule – and stick to it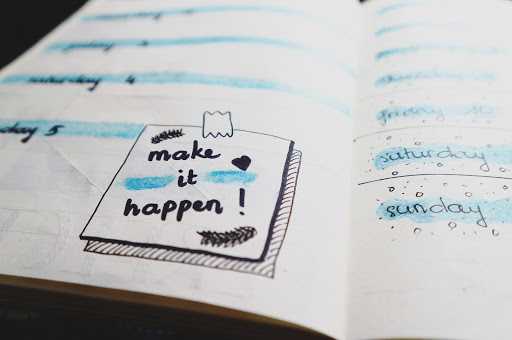 We just published a whole blog post dedicated to content scheduling – that's how important it is. Your digital content strategy is nothing without a stringent schedule. There is no use in uploading five blog posts in the space of a week and then going radio silent for a fortnight. You can't risk overloading your clients with content OR letting them forget about you. It's a fine balance, and you must find it. 
Again, keep your audience in mind here. If most of your clients are in America, make sure to post according to the appropriate time zone. This is particularly important for social media posts. Posting a Facebook post in the morning when most of your audience is fast asleep is not the best way to achieve maximum engagement. Writing down a schedule will keep you on track. 
Creating a schedule will also keep you abreast of relevant holidays and celebrations that your audience might find interesting. There are tons of fun, niche holidays that can give you ideas for fresh new content. 
6. Improve your reach
Alright so you've got your original content, it's perfectly tailored to your audience and in an easy-to-read format. Now how to get it in front of people? Brush up on how to gain more blog readers, but these are the essentials. 
SEO
This is the most important one, as quality SEO content will keep new visitors finding your page organically. You can't skimp on this one, so make sure you know what you're doing, or check out our reasons why an SEO content writing service (like Topcontent!) can turn your business around. 
Emails
Curating an extensive mailing list will drive consistent traffic to your site. Remember, the email should not be your entire blog post, but a snippet to incite readers to click through to your site. You can encourage visitors to sign up to your mailing list with a number of incentives, including downloadable templates, ebooks, and exclusive email content. 
Social media
We're all aware of the power of social media by now. Facebook alone has 2.5 billion monthly users, not to mention Instagram's two billion and Twitter's 330 million. That is a LOT of potential clients. A quick tweet or Facebook post linking to your latest blog post should be the first thing you do in the day after it's been published. 
Advertising
Preferably your traffic will all be organic, but if you find you do need a boost, you can consider paid advertising. You can try pay-per-click advertising to gain a higher position in Google's SERPs, or social media has excellent tools for zoning your ads in on target audiences. 
7. Assess your success
Of course, once you've started implementing your website content strategy, you need to regularly evaluate it to make sure it's working. Use Google Analytics to assess your posts and work out which ones are performing better. 
Did a listicle draw in thousands of new page visits, while a founder Q&A only attracted a few hundred? It might be a hit to your ego, but learn from this experience. Give your audience what they want, and get writing those listicles. 
8. Bonus tip! Ask for help
We know it can be overwhelming designing and implementing an entire content strategy plan yourself. That's why it's a good idea to call in the experts for the actual content part. Here at Topcontent, we provide a wide range of content writing services that will keep your website looking fresh. After all, content IS still king, you just need to use it wisely. 
Contact us today to see how we can help you.