In our previous post, keyword guide for SEO beginners, we discussed the dos and don'ts of keyword research, how you can find the best keywords for your website and how to use them. This time we are going to concentrate on how to write an SEO title; the most important element when it comes to helping the search engines understand what your webpage is about.
Titles are important because:
They are used by search engines to categorize the page;
Titles are the first thing a user sees;
Titles determine if a potential visitor will, or will not, click to visit your site.
That is why it's essential that you use the correct keywords in your titles. Let's first have a look at what a title is.
The title tag
The title of a page is what is included in the HTML title tag of the page. Our page about product descriptions has the title tag: "Get Topcontent Product Descriptions for more traffic and better conversion".
And it looks like this in the HTML code:
<title>Get Topcontent Product Descriptions for more traffic and better conversion</title>
To edit the title of a webpage you need to find and edit what is written between "<title>" and "</title>" in the HTML code. Or, if you are using a CMS like WordPress, you need to find the title settings and edit it there.
Where the title is displayed
The title is used in a lot of places. That's why it's so important. Here are a few of them:
In your web browser
In the top of your web browser, where you see the opened tabs, there is a text. That text is the title of that page.
On Google
The title of your page will appear on Google's search results. The title becomes the link that users have to click on to reach your site.
Here is an example of title tags of a search regarding protein shakes: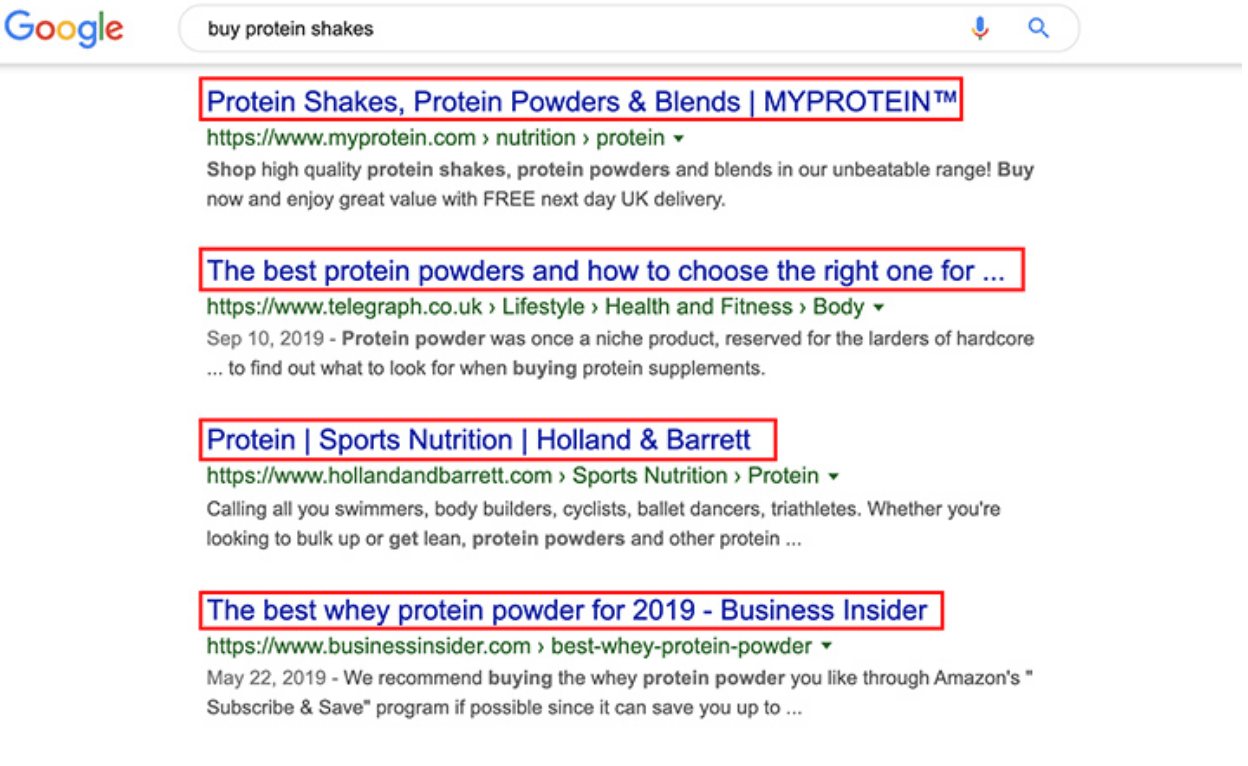 This is why the title is important when a potential visitor is deciding if he should, or should not, visit your site. The title is used outside of your website and it is seen, and judged, by visitors even before they visit it. If the title is not attractive people won't click on it.
If the titles of your competitors are better, they will get the traffic instead of you. Therefore it's important to learn how to write an SEO title which is better than your competitors', so you will gain the clicks of internet users – not them.
On Social Media
That's also the title displayed when you share your link anywhere on social media.
Here is an example from a post from our facebook page: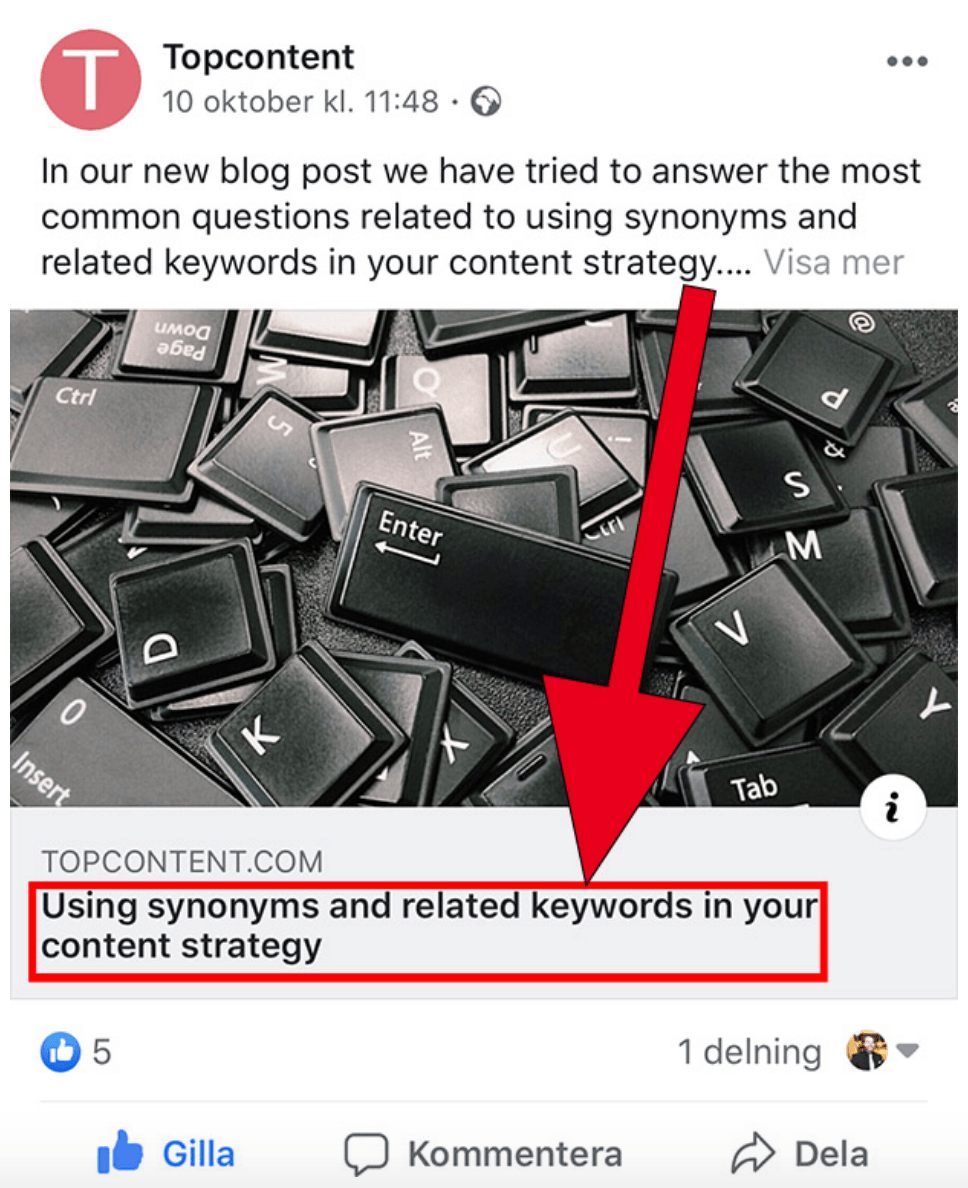 Again, the titles are seen and judged by people long before they visit your site. We will return to this later on, discussing the trade-off between clickbait titles and SEO.
But first, let's look at how Google uses titles to categorise webpages.
How Google uses titles to categorise your page
When a user enters a search query and clicks the search button, Google will do the following:
Determine WHAT the user is looking for;
Find all webpages in their database that are about that topic;
Rank them according to an algorithm and removes duplicates;
Show the result to the user.
All in the fraction of milliseconds. Amazing, right?
Your well-crafted title is used by Google in the second step (among other things, but that one in particular). If your title says "Pictures of cute puppies" Google will assume that the page is full of pictures of cute puppies. So if somebody is searching for "pictures of cats" they won't include your page in the second step.
This is why it's very important to have your chosen keyword in the title.
The title of your page describes, both to Google and the regular internet user, what the page is about. Therefore descriptive titles are essential to rank and get traffic. Google looks at the page titles to categorize what the page is about and, thus, which of its users should see it. The users will look at the title to determine if they should click on it or not.
To keep it optimized for search engines, take the following actions:
Make sure you are adding your most targeted keyword to the title tag. Find out how to do keyword research from our previous article;
Your title should at the same time be easy to read and click friendly;
Most of the time is better to use only one keyword in your title tag.
Google also looks at how their users interact with the search results presented to them. If nobody clicks on the link to your web page, Google sees that as a signal that your web page is probably not what their users are looking for. This signal goes into their ranking algorithm (step in the list above) and will affect your rankings in a negative way.
So you need to make your titles click-friendly.
How to create a click-friendly title
Because the title tag is the first part of your site internet searchers will see, it needs to:
Grab the reader's attention
Show the reader what they are looking for
The last one here is simple. Ask yourself if you would click on the title if you searched for the keyword you are aiming to rank on. If the answer is no, change the title.
The first one, grabbing the attention of the reader, is a bit more tricky and involves a bit more creativity. You also want to do it without losing the SEO aspect of the title. Sometimes it's a trade-off.
The trade-off between clickbait titles and SEO
When people talk about click-friendly titles they often talk about clickbaits. Clickbaits are titles that are insanely click-friendly to the point of being near fraudulent. They are very interesting from a marketing point of view, so we recommend everybody to read our interesting article about clickbait titles.
Clickbaits are a great way of getting traffic from social media, but they won't always help you when it comes to SEO. Yes, a clickbait only title will encourage people to click through to your site instead of to your competitors. But at the same time it won't help the Big Google Machine to correctly identify what your content is about.
Luckily, you can do both. Just make sure to include the keyword.
Here is a good example, that does both, from our blog:
How to write an SEO title:
Do the necessary keyword research;
Create a catchy title tag for your website with the keywords you want to rank in Google's search results;
Make sure the title is click-friendly and describes the content of your page while maintaining the keyword;
Double check your title is not too short or too long (ideal length is about 50-60 characters).
Dos and don'ts of SEO title creation

Don't write your titles in capital letters – No words in your content should be capitalized. Titles in caps shout at people. People do not like this, and Google doesn't appreciate it either. Focus to provide easily readable and clear titles to your readers.

Don't stuff your content with keywords – Overdoing keywords will reduce the quality of your titles and content. There is a thin line between optimal and overuse, and Google can easily detect if the content is legitimately aiming to provide information to people or spammy. In the title, once is enough.

Make your titles and content seem as humanly written as possible – SEO requires perseverance. You should acknowledge that results cannot be achieved immediately, and what works now might not work one year later. This means that quality content is a lot more important than trying to "trick" the algorithm.

Avoid too long or too short titles – This is another common mistake. Clarity is critical when it comes to successful SEO. Too long titles will not be totally visible in the search results page and might leave out important information for the internet user. However, just one or two words is not enough to describe the content of your page. The ideal length of an SEO title should be something between 50-60 characters. Don't also forget that in U.S. alone over 90% mobile phone users use their device to make internet searches. Shorter titles are more likely to catch the attention of internet users browsing with small smart phone screens.
Other tips & final notes about how to write an SEO title
We have already mentioned a few times that the title tag is the most important title of your page. However, it walks hand in hand together with the meta description. That is the text composed of 1-3 sentences and visible under the title in Google's search results.
The role of that little snippet is to explain, briefly and more thoroughly than the title, what your page is about. It is also extremely crucial to add keywords to this copy. The title and meta description together should encourage internet users to click through to your website.
This is the meta description of the site selling protein shakes. As you can see, it includes keywords, describes the content of the site and encourages a call to action.

To summarize, in order to properly rank your keywords, you have to add them in your titles. Google doesn't want to sniff through thousands of words to analyze what your website is about. Instead, it looks straight to your titles to get an idea of what the content of your website is all about.
Let us help you create the best SEO titles
Here at Topcontent we specialize in creating content that search engines love and offer a variety of SEO content writing services. This includes crafting the most SEO friendly titles possible, to help your page rank better.
Contact us to get started.