Category descriptions are short texts used in e-commerce websites to describe a group of products. For example, a site selling pet equipment would most likely group their cat food products as dry cat food, wet cat food, cat treats etc. and have a description written for each category. The texts serve another purpose as well; a good SEO category description has potential to drive organic traffic from search engines.
Adding great category descriptions is an important part of a search engine optimization strategy for any e-commerce website. Categorising your products can help add structure to your webshop, add findability and usability, and consequently make your whole site more discoverable.
However, you shouldn't just add any content to your category descriptions. In this post, we have collected some tips and tricks on what to include in your category descriptions, and how they can help you get more traffic to your webshop – and make your visitors stay.
How to write good SEO category descriptions?
1. Give all needed information to encourage visitors to stay at your site
Adding a paragraph or two of content detailing a particular category on your website is highly useful to internet users. By reading your category description, users will be able to tell that they are at the right place. This is particularly relevant when you consider typical user search styles. A potential buyer will visit tons of different websites in a relatively short time, making it difficult to discern between pages, find what they are looking for, or decide whether an item is available. A good category description will tell users exactly what is available and encourage them to stay.
2. Use persuasive writing and add product details
Once a user has been directed to a category page, they're already halfway into the purchase funnel. At this point, however, they may still not be ready to make a purchase.
A well-written category description may help give a potential buyer that extra push. This is your chance to highlight the value of your products to the user, as well as add extra information they might find useful. Persuasive writing can do much to prompt your audience to action.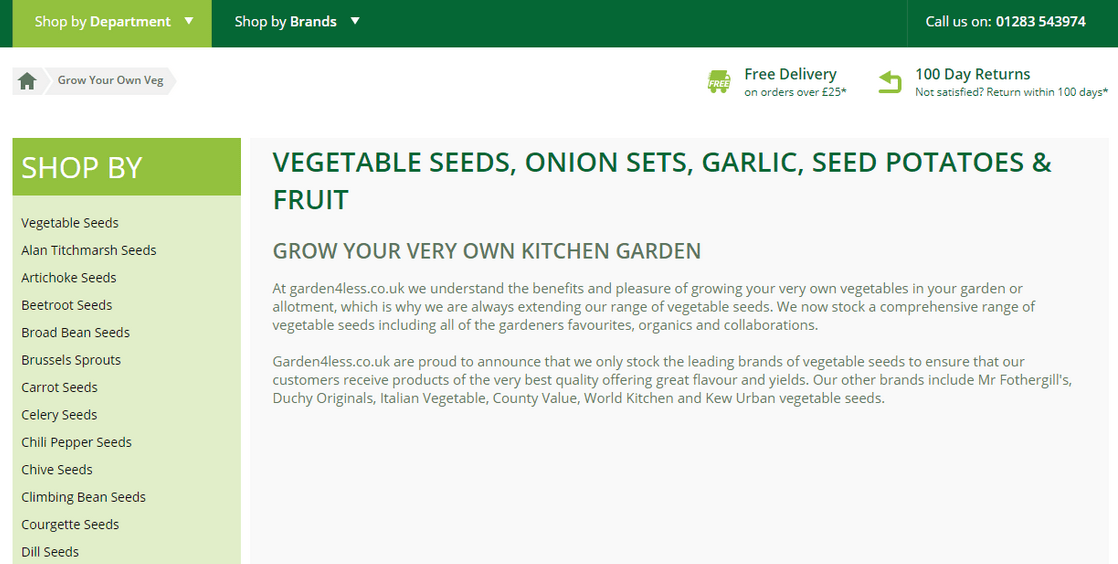 In this example, we can see how Garden4Less has used its category landing page to persuade potential buyers to linger on their page, invoking curiosity by mentioning other products and using persuasive diction.
3. Use long-tail keywords to bring in more organic traffic
We've already said that good category descriptions can bring you more traffic.
How?
Go for long-tail keywords targeting niche categories rather than short ones that are broader. This infographic by seomoz.org names a stunning 70% of searches as stemming from long-tail keywords – and that figure is certainly not one that can be sneezed at.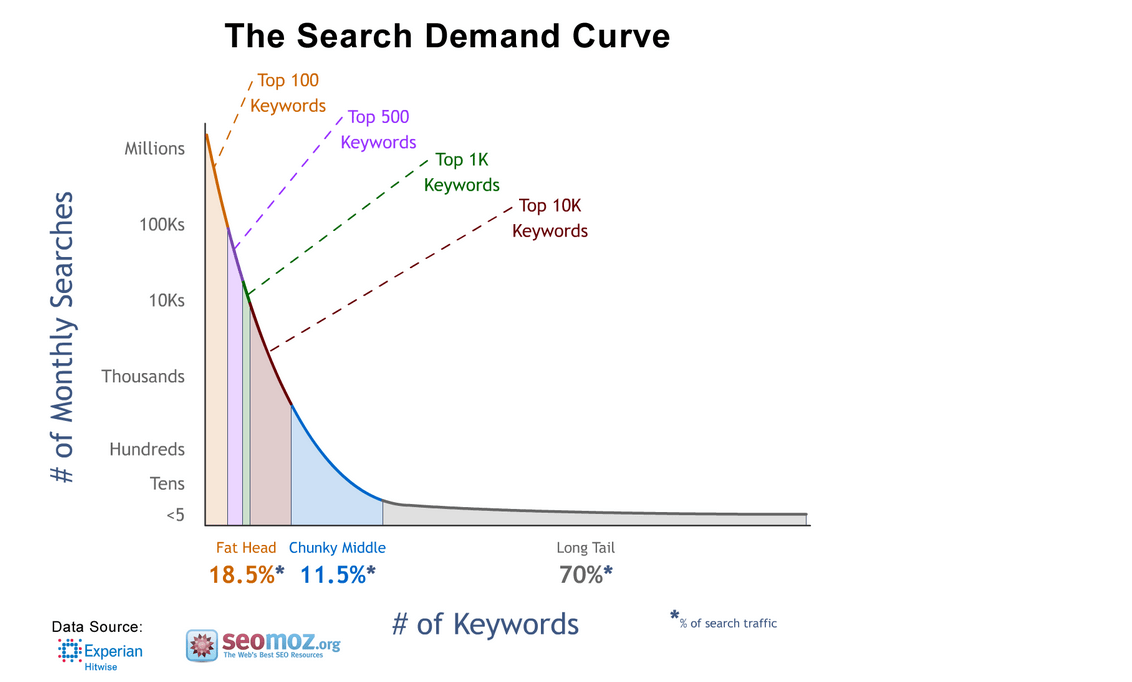 Using long-tail keywords in category descriptions helps direct users to exactly what they are looking for, which is what you want. For example, a user that is ready to buy is more likely to google women's red court shoes than just shoes. Hence, you will be targeting a smaller, but more specific audience who are more likely to find what they are looking for and consequently make a purchase.
4. Add links to other products and categories to make visitors stay at your site longer
Keeping your page's bounce rate low is essential if you want visitors to stick around. When an internet user 'bounces' off a page they've landed on, this means they haven't done anything except for having a quick look around – usually less than 15 seconds. This is known as the '15 second rule'. In those 15 seconds, the user is faced with unappealing content; they haven't been propelled to action with adequate CTAs – and they certainly haven't considered making a purchase.
Category descriptions can be a useful way of incorporating internal links that direct users to other pages within your own website. You can post links to subcategories or even individual products, which will increase your chances of making a sale.
Keeping your customers on your site is also especially useful for improving their dwell time, which is the time a user spends on a page after clicking your link in the search results, before heading back to the search results to look at another site.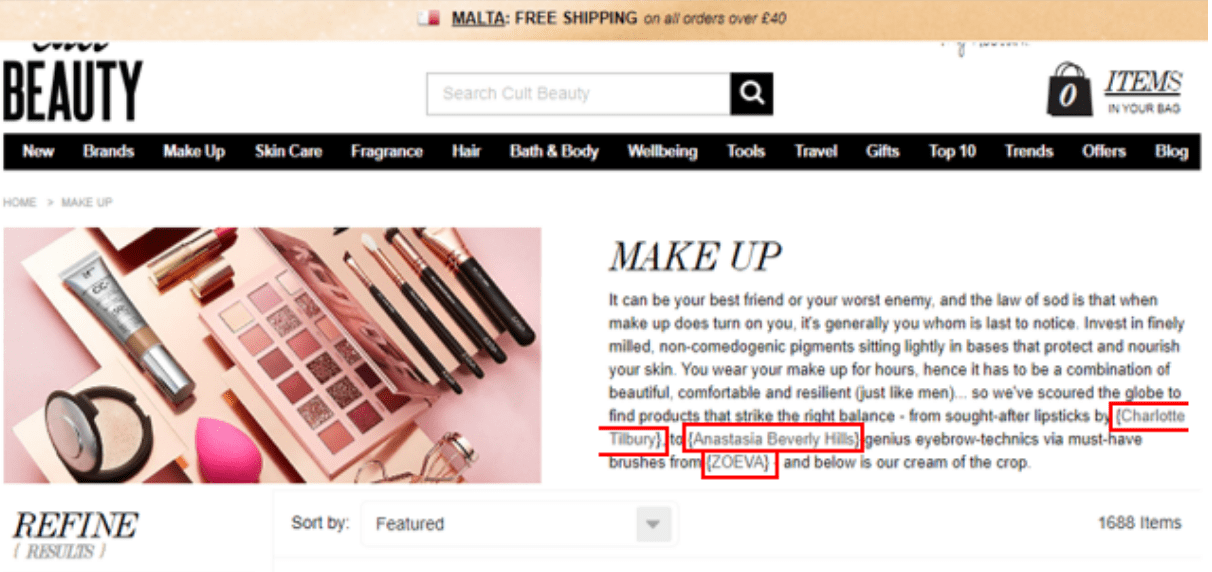 This makeup category description from Cult Beauty weaves several links into its text, an easy and useful way of enticing visitors into browsing different pages of the site. In this example, Cult Beauty is using hyperlinks to direct customers to their brand pages, which can also be a great way of adding more relevant content to your website.
5. Engage with visitors by adding a personal touch
Another great way to use category descriptions is as a way to add a personal touch. This is especially true for smaller businesses targeting niche audiences. A good content writer can create appealing material with the aim of engaging potential buyers. This could include stories about the website's history, reviews by past customers, or a few sentences about the inspiration for a current collection. Adding a personal touch helps give the impression that your company values its customers.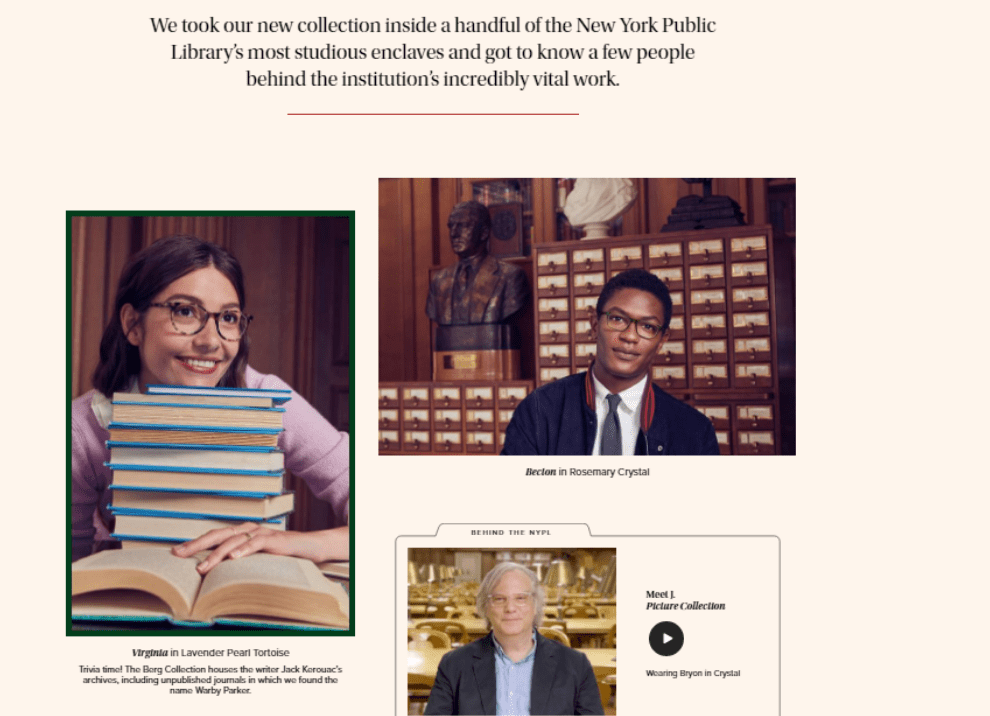 Check out Warby Parker's page about their new fall 2019 collection. A tiny little story and real-life customers help invoke curiosity and draw new visitors in.
Summary
So when you start crafting descriptions for your web shop, keep in mind these following tips what to include in your SEO category descriptions:
Make sure you provide all relevant information, as internet user's attention span in short and they want to find answers to their questions.
Highlight the value of your product to the user and use persuasive writing.
Incorporate links to relevant products on your website.
Add a personal touch to stand out from the competition.
Where can you get great SEO category descriptions?
Now you know how you should use category descriptions, and it's time to add them to your website! Our writers at Topcontent excel at creating personalized descriptions.
Take a look at our SEO category description writing service or get in touch and let's see together how we can help you.