If you think the main objective of writing a product description is to accurately describe a product then you are missing something crucial. A good product description goes beyond simply saying what a particular product looks like, is used for, and how much it costs. A good product description persuades potential customers, the readers, that they cannot get by without procuring what is described to them. In other words, a good product description sells.
Here are our top five tips how to write better product descriptions that will help you improve your conversion rates:
1. Appeal to your target audience
When you are thinking how to write product descriptions you should remember to avoid too general descriptions. Product descriptions which aren't aimed at anyone in particular are quickly scanned and even more quickly forgotten by the user who is looking to buy something spectacular. A little research into the likes and habits of your target market niche is all it takes to come up with a tailored product description that is more likely to positively affect sales.
Which age group is most likely to want or need to buy your product (eg. teenage, the elderly, parents)?
Would your product be of greater use to males or females?
These details will better enable you to provide a customised product description by using the appropriate diction that is relatable to your customers.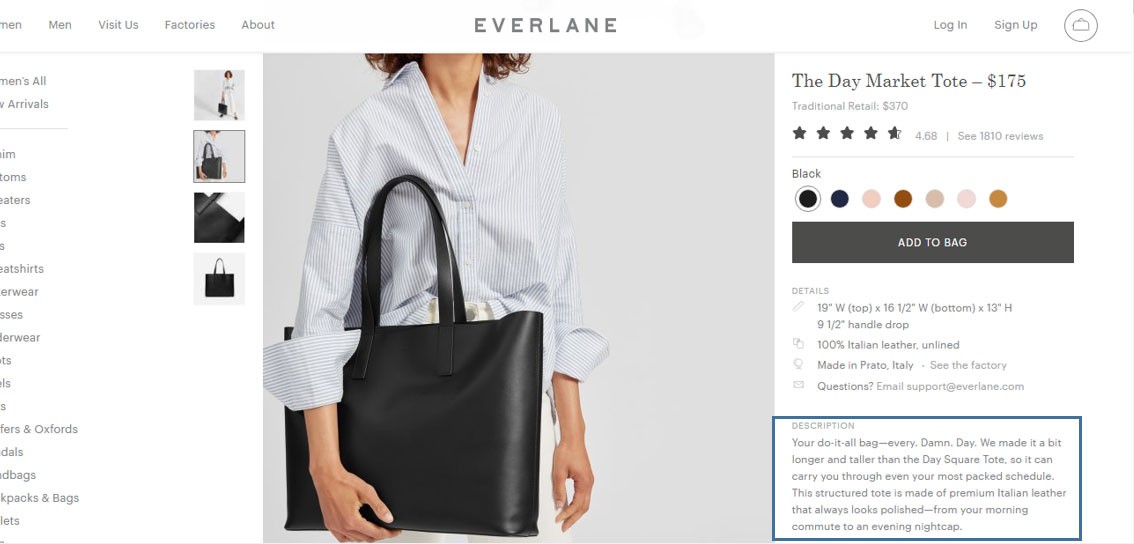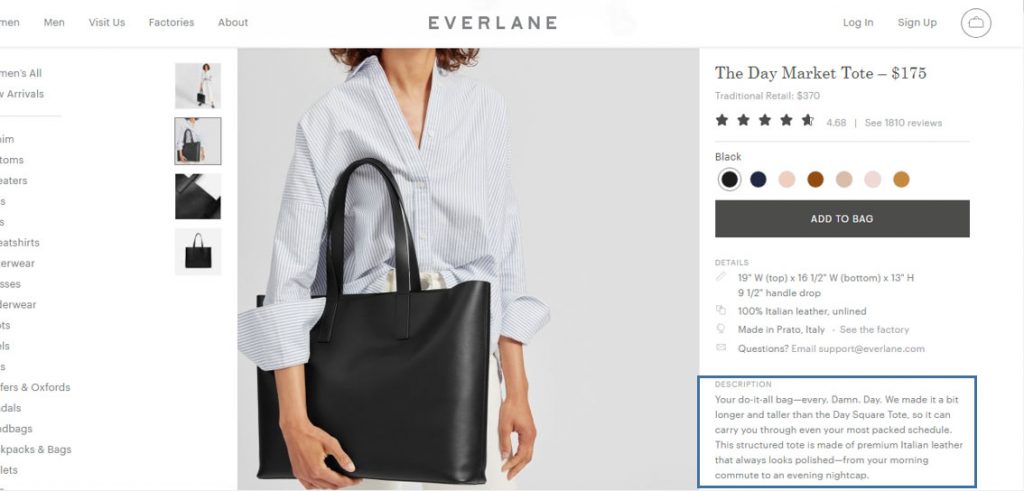 Look at this product description for this tote bag by Everlane. The company clearly knows its buyers intimately, aiming their description at busy, working women who require a durable bag to see them through their "packed schedules".
2. Highlight the benefits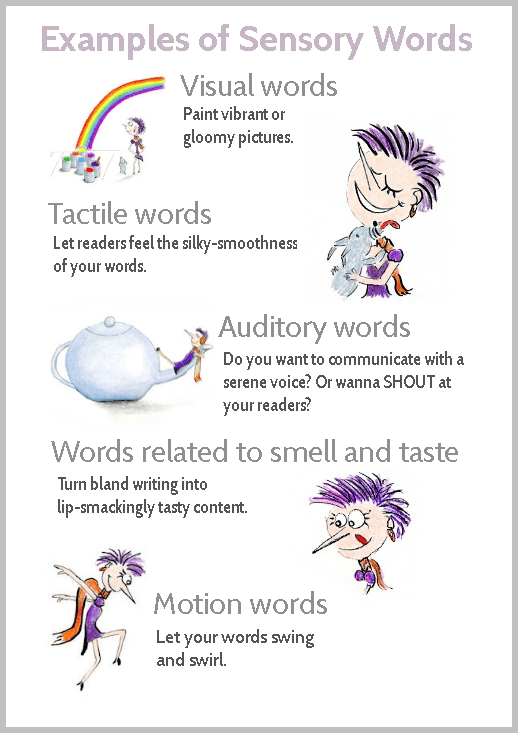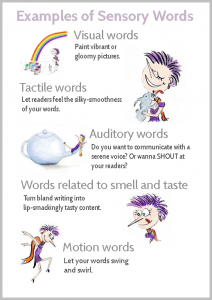 Every potential buyer attempts to make a discerning choice. Not easy when that choice is as vast as the ocean. A well-written product description can help your product stand out among a sea of others. According to Enchanting Marketing (see right), using sensory words (ie. diction that appeals to the senses of sight, smell, taste, sound and touch) can greatly increase your sales by drawing site visitors closer to you. If your description is accurate enough to successfully paint an image in a customer's brain, you may even be encouraging their sense of perceived ownership, which fuels their desire to buy.
This description for a fragrance by Sephora appeals to the senses in all the right ways. Tactile words like "warm" coupled with diction that appeals to the sense of smell are used to successfully sell a perfume cleverly named Flowerbomb.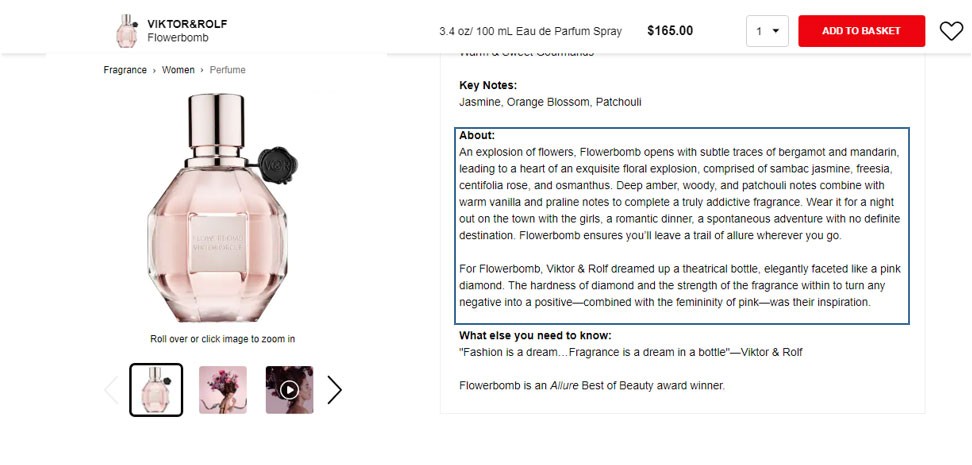 3. Be specific
Bland, overly-general phrases that don't shed any light on a particular product won't render your product description any more persuasive. According to Shopify, it is product details that sell a product. Avoid using vague phrases such as "excellent quality" and elaborate on each product feature instead, clearly outlining how it can be beneficial to the customer.
Zappos, for instance, knows that it's the specifics that will help them sell their products. Each bulleted point in the product description below is anything but general. Though the word "quality" doesn't appear anywhere, the concept of high quality is conveyed nevertheless through each highly described feature of the shoes.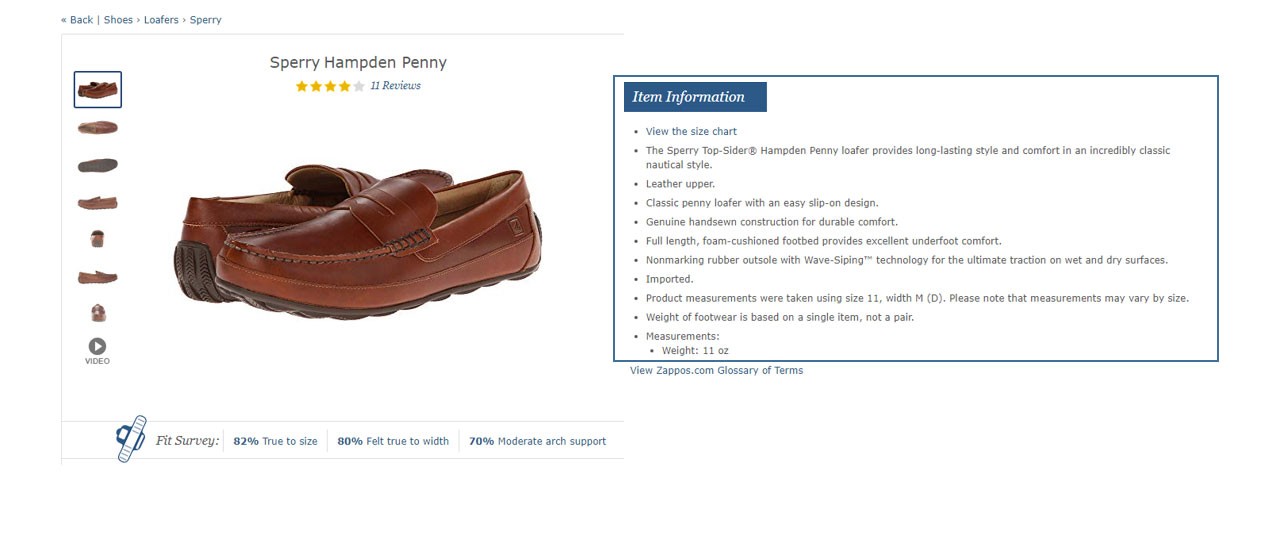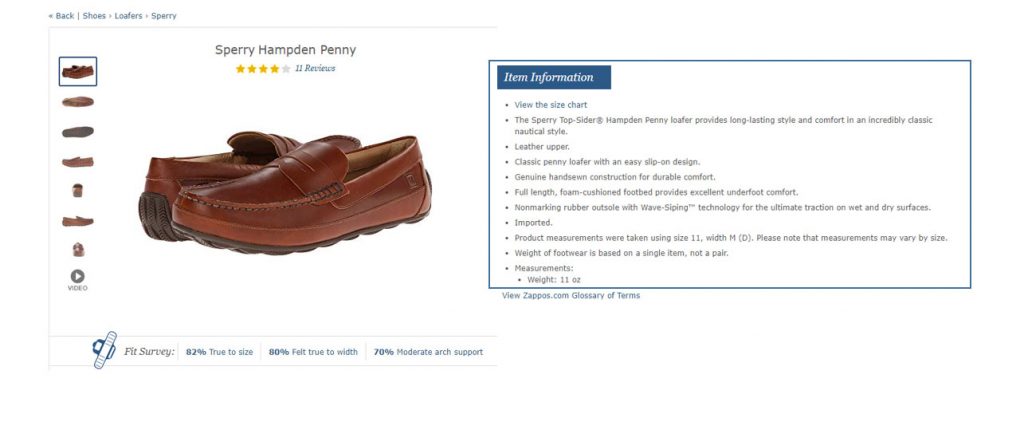 4. Go visual
No matter how persuasive your product description is, nothing beats a good picture. This infographic by Xomly clearly illustrates the prevalence of humans as visual learners, a fact that many e-commerce sites do well to capitalise on. Research also shows that visual aids enhance memory retention much better than text alone (source). Video tutorials or advertisements about the product are also proven to increase sales rates.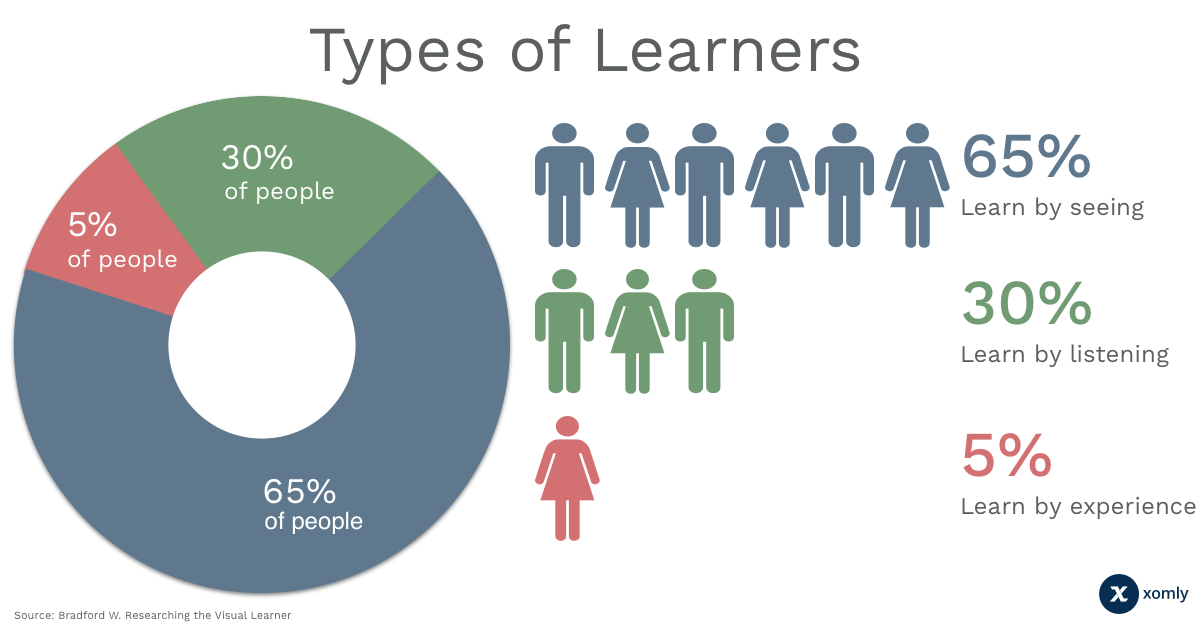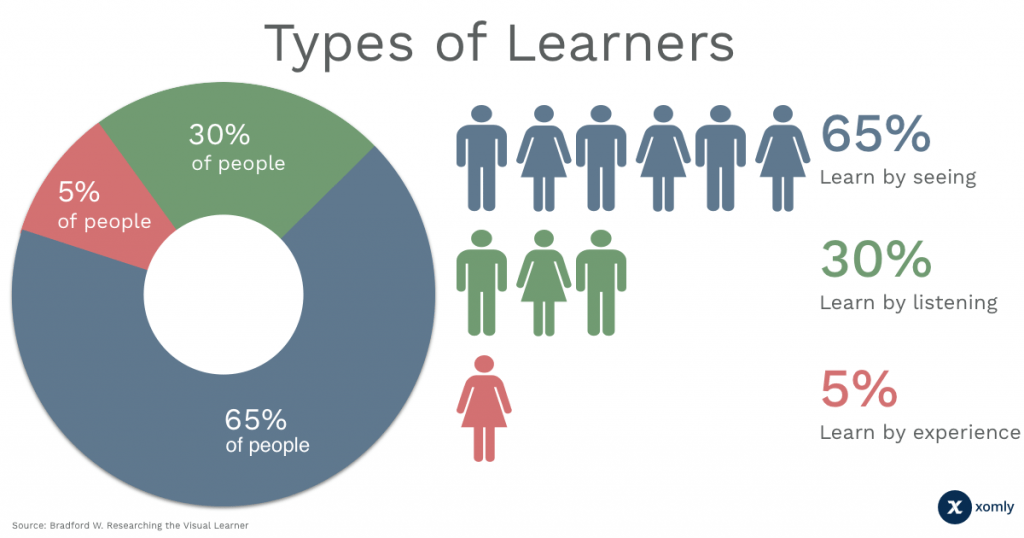 5. Tell a story
No, stories aren't just for novels or books. Incorporating storytelling into a product description can be a great way of drawing in your visitors and helping them forget that what they're reading is, in fact, persuading text. Steve Jobs, for example, is renowned for using the same technique, with staggering results.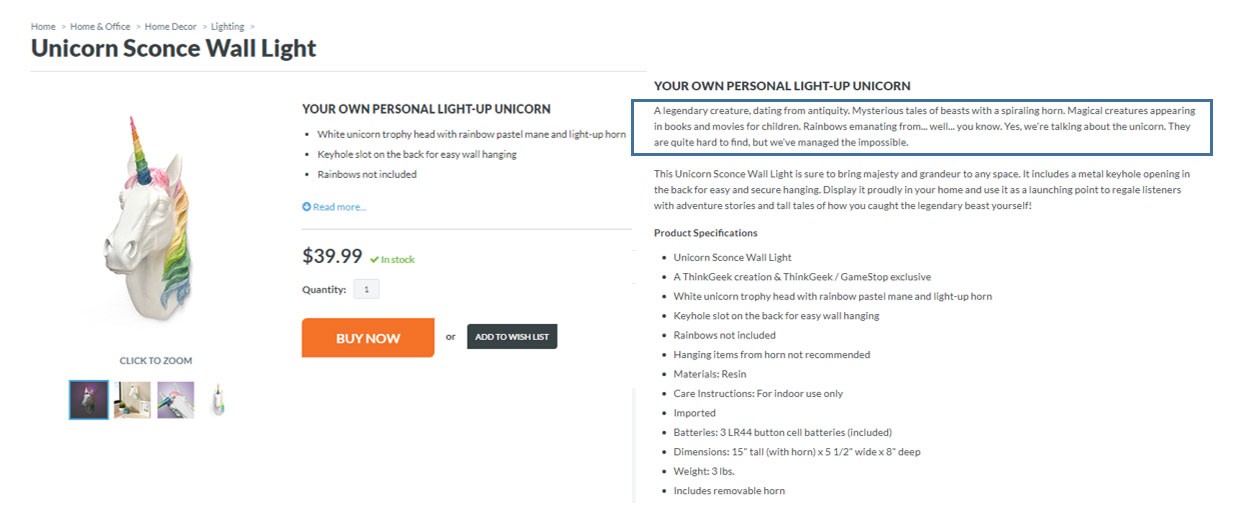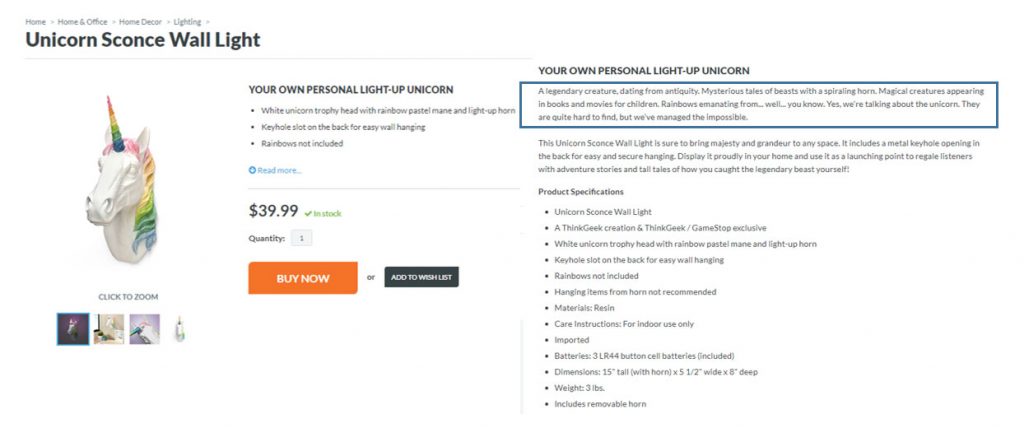 Check out this unicorn sconce wall light description by Think Geek, for instance. The writer has dedicated four sentences to what might seem like aimless rambling to the uninformed, but in fact, effectively set the scene and pique the curiosity of potential customers.
Bonus: Let the experts write product descriptions for you
Now you know how to write better product descriptions, but you might not have the time to create all of them yourself. No need to worry, as we have a solution for you. Here at Topcontent we are experts in content writing, and you can get killer product descriptions to your webshop with our product description writing service.
Contact us for a free quote, or sign up and buy product descriptions online!