Starting an online business has never been easier. Just a few years ago, setting up an e-shop implied going to the considerable expense of hiring a web designer. Not anymore. Thanks to online e-commerce platforms, you can now have your products in the online market in no time. This blog post will tell you how, focusing particularly on how to build a Shopify store.
What is Shopify? A (short) history.
The brainchild of founders Tobias Lutke, Daniel Weinand and Scott Lake, Shopify is an easy-to-use e-commerce platform that came into existence after the trio's disappointing forage into the world of online businesses in 2004. After trying (and failing) to sell a range of snowboards online, Lutke decided to bite the bullet and create an app that would make the whole process easier. Fifteen short years later, Shopify runs over half a million active stores which, collectively, have driven over 40 billion dollars' worth of sales since its inception. It is the world's most popular e-commerce platform, and with good reason:
You can set up your own webshop from scratch in a quick and easy process 

You can sell online or from a physical premises

You can sell anything – physical products, software or digital wares, etc.

Shopify is loaded with features that allow you to run your e-shop effectively

You get help with drop-shipping

Costs of upkeep is next to nothing ($9 a month if you stick to selling via social media)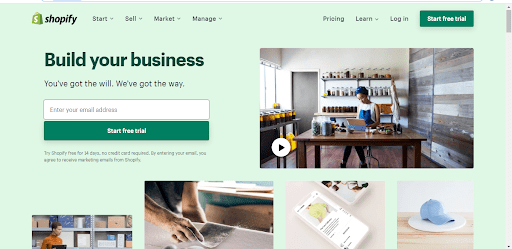 How to build a Shopify store
Though some Shopify blogs claim that setting up your e-commerce website takes no more than 15 minutes, in reality there's a little bit of groundwork you have to lay down first.
#1 Find your niche and identify your target market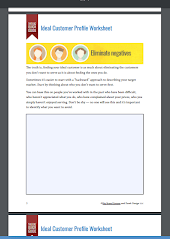 First off, you need to decide what you will sell. Are you selling jewellery, sportswear, software? All of them? Your best bet is to stick to one particular type of product (eg. innovative ties and bow ties for men) rather than attempting to target a wider audience by presenting an excessive variety of mind-boggling products. This way, you will be able to attract a particular type of visitor (eg. working-age males with an average to high income) and hence build a customer profile. There are dozens of useful resources on the internet that you can use to do so, for example this free template that you can sign up for at zero cost. Once you know exactly who your typical customer is, you will be able to better achieve your content marketing goals.
Source: Big Brand System
#2 Design your website
Once you've created your Shopify account, you're just a few steps away from setting up your store. One of the most important decisions you will have to take, though, will be what your webshop will look like. Having an attractive, easily navigable website that has been optimised for optimum user experience will help minimise your visitor bounce rate. Besides, a visually-appealing and organised website encourages 46% of visitors to stay on your page and is an important part of pushing potential customers into the sales funnel.
Shopify makes this a breeze with dozens of gorgeous themes and templates from which you can pick and choose. There are some free as well as paid options to suit all budgets.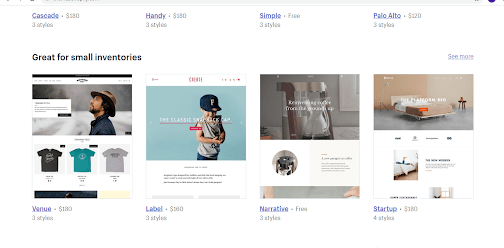 #3 Add extra features
The great thing about Shopify is – you don't really need to spend much on building your store. But attracting more traffic to your site and increasing your revenue can sometimes go beyond crafting great product descriptions. You can add more power to your site by using Shopify apps; some of these are also available for free but there are also a number of paid options. None of these are one size fits all, so you will have to know what works best for your brand. Nevertheless, we've narrowed the choices down to what we think are three of the top Shopify apps:
Whatever customers want, they want now, and top of the list is customer support. Keep potential customer waiting with a query, and they will soon look elsewhere. That's why we think a live chat option is essential. Marrying it with a strong social media presence hits the spot.
If your knowledge of SEO is next to nil, then this is the app for you. Plug in SEO helps you identify and solve SEO-related issues and increase your traffic. And it's absolutely free!
Trustpulse is a real-time social media notifications app that lets you track activity generated through your social media accounts, such as subscriptions and purchases.
#4 Advertise your business
Congratulations. Your dream of setting up an online store has come to fruition. Now, it's time you make people aware of its existence. You can do this by promoting your brand.
If you've already spent a pretty penny setting up your webshop, chances are you won't want to run up additional advertising costs. Thankfully, setting up social media presence is totally free, and setting up Facebook, Twitter and Instagram accounts are great ways of increasing your visibility. 
The shot below is from the Mvintage Facebook page, who chose to promote their spring collection in a timely and attractive manner.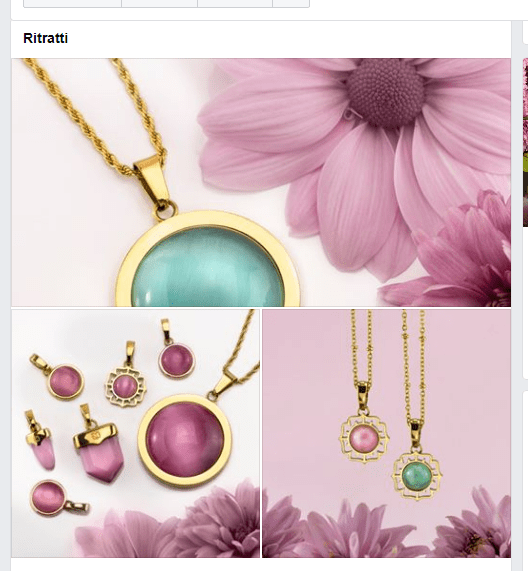 Other, equally clever ways of promoting your store include creating a blog and offering regular discounts and prizes, as well as gifts for loyal customers.
Ready, steady, go!
Now that you've learnt how to build a Shopify store and done it from scratch, it's time to fill it up with top content. Whether you're after product description writing or category text writing, an effective landing page or just some good old advice, check out ecommerce content writing services or get in touch.