Gone are the days when you could stuff your website with "filler" content and get away with it. Now, Google will penalise inferior content, so content writing for e-commerce sites is given much more importance.
Published content can be split into two main categories: informational content and marketing content. Both are equally important for an e-commerce website with the main objective of making sales. In this article, we will explore these two types of content by giving examples and practical advice to webshop owners.
Informational content
As its name suggests, the purpose of informational content is to provide information. Informational content is either brand-related or user-related.
Brand-related informational content is created with the aim of building a relationship with your customers, which is important both for attracting new buyers, and keeping the ones you already have. Brand-related content is usually found on static pages, i.e., pages whose content is not (or doesn't need to be) updated as regularly as others. Here, visitors will be able to access information such as the history of your brand and mission statement. You can also choose to include current vacancies or insights about your team. The best place to put this type of information is in your About, History or other, similarly named, pages.
During the process of content writing for e-commerce sites, a writer will want to present it in the most beguiling manner. Stories, for example, may do a lot to help draw your reader in by giving your site a personal touch.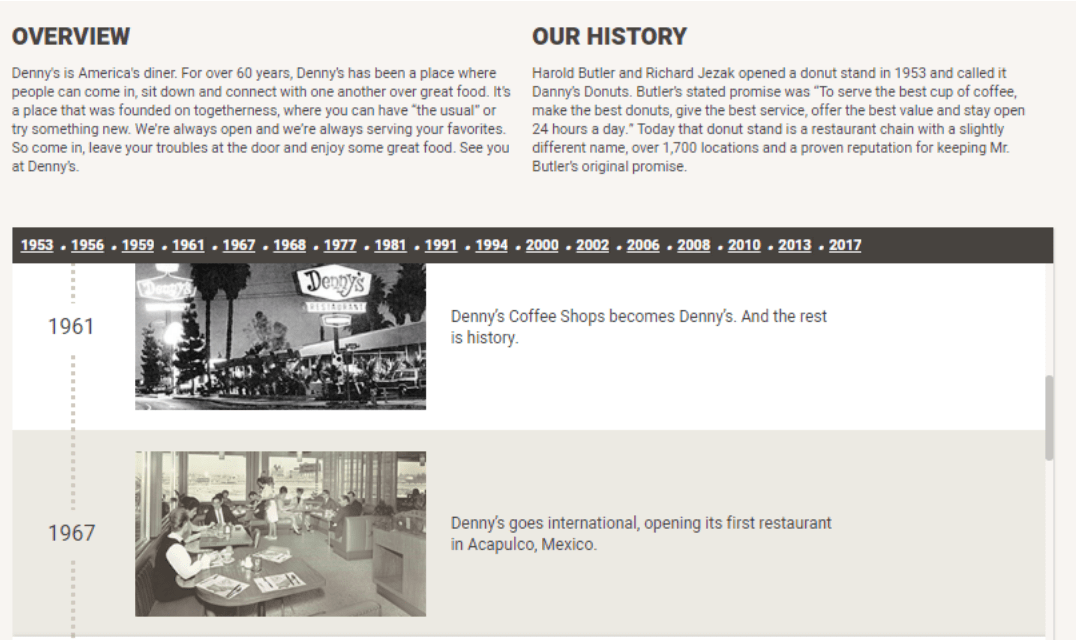 Denny's, for instance, immediately hit a personal note in their nostalgic About Us page that includes a well-written overview, the company's mission statement as well as an originally presented timeline that reinforces the website's reputability. On the other hand, Third Love uses a relatable story based on a deep understanding of its customers' needs.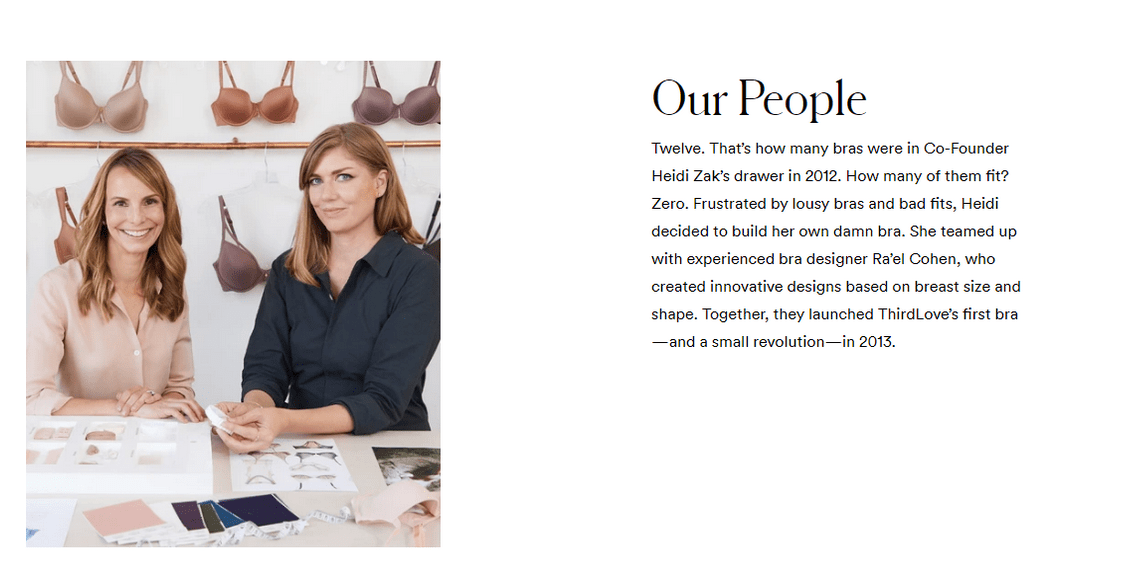 User-related informational content helps visitors use your website, i.e., it provides information that users will need to make a purchase from your webshop. Here, customers will find information such as delivery times and prices, refund and return policies, and your website terms and conditions.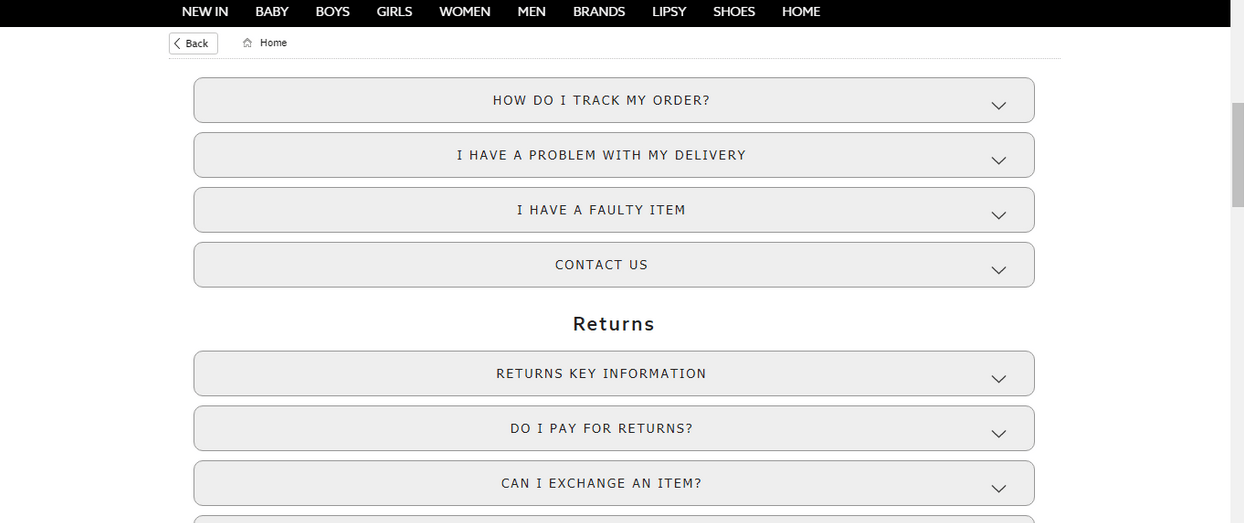 Photo credits: www.next.co.uk
Marketing content
As we mentioned before, the main purpose of marketing content is to push users through the sales funnel. There is no single specific page or place you should aim to have marketing content; rather, this type of content should be spread throughout your whole website. Marketing content writing for e-commerce websites should be done by someone with a good knowledge of SEO and online marketing, and can include:
Home and landing pages
Blogs
Links, CTAs and buttons
Heading and subheadings
A clever content writer will make sure every scrap of content is engaging, informative and effective. And by effective, we mean: tailor-made for the user, in the sense that it is focused on conversion.
What to put on your homepage
Remember that websites offering a smooth user experience are more likely to lead customers into making a purchase. Everything from design and structure, to page loading speed and the quality of your content can make or break a user experience. The content is only part of the overall UX, but that doesn't mean it deserves less attention. The homepage is a good place to put promotional links that redirect users to a product or category page.
Category and product descriptions
Your category and product descriptions should be carefully crafted if you want to persuade your visitors to make purchases from your webshop. Your visitors have probably been guided to a category or product page by clicking on a link from the page they have previously landed on, so they are already halfway through the purchase funnel. All they need now is some persuasive content that will propel them to make the final step. A great example of a persuasive category description by LoveLula is seen below: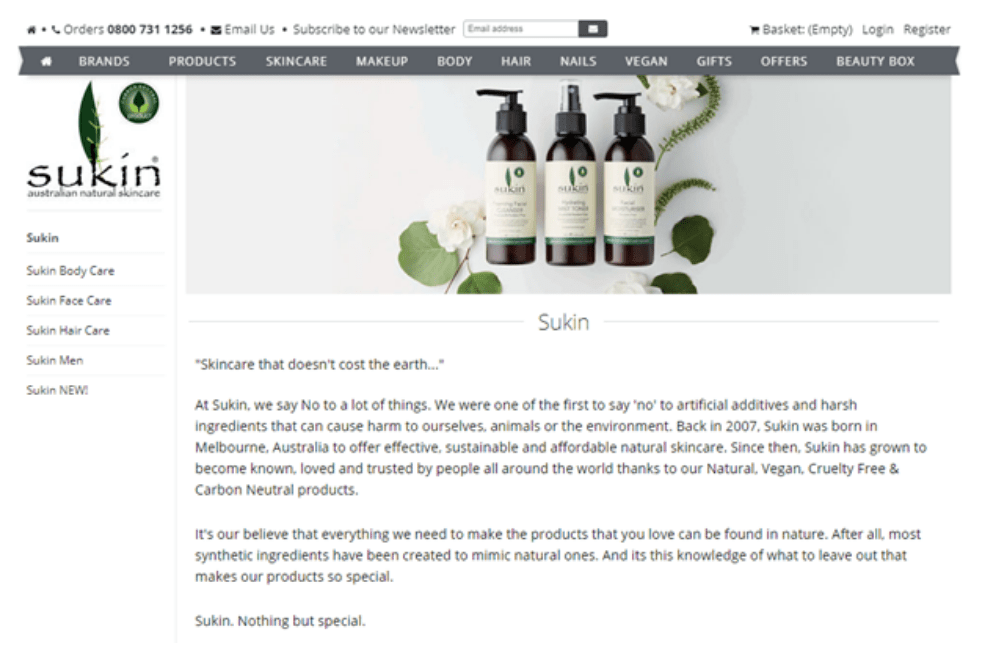 Blogs
Adding a blog in this section can be a great way of building up a following. You can use your blog to publish additional information your visitors might find useful, such as past or future company events, interesting articles related to your products, or causes close to your company's heart. This content can be either evergreen or seasonal or ideally a mixture of both, and can be used to your advantage to increase your company's exposure.
Where can I find content writing for e-commerce sites?
At Topcontent, we're experts at creating tailor-made content for your e-commerce site. We can craft your product descriptions, category texts and provide you trustworthy product reviews help boost conversion rates. Get a free quote today!